EARTHACK: Innovative tech-driven solutions by young minds could improve the world
MIKE McGEE | 5/15/2017, 12:49 a.m. | Updated on 5/17/2017, 6:16 p.m.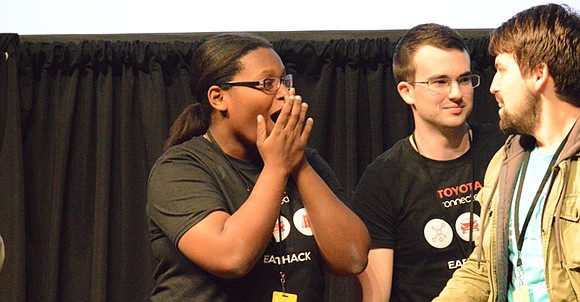 The inspiration for Symptly Aware derived from a past incident the team experienced.
"Back in 2014, our school was kind of struck with an unknown disease; 600 students were absent in a span of three days," explained co-developer Sandra Nguyen. "It was actually a gastrointestinal illness and we had to cancel so many competitions, we deemed it the 'RHS plague.'"
The UNT-based Team Aerium Solutions was the third place winner. The team implemented a small drone-based app for which a guided flying device could be sent up to locate unseen patterns of pollution through the use of sensors attached to the drone. Members of the team offered an example wherein a quadracopter equipped with a carbon dioxide sensor could circle around a certain flight range.
Should CO2 gas be discovered within that range, the drone could pinpoint the origin of the potential pollution; the findings would be sent to the smartphone app, along with flight pattern data, on a grid map. Aerium Solutions hopes to apply to the FAA for testing permits to further develop the technology.
Winner of the Best Environmental Impact prize was Team SeeGreen. Their app assists users in cutting down on unnecessary waste and promotes responsible disposal of waste. By use of a smartphone's camera, a user can shoot a photo of refuse, which will then be categorized as trash, recycling or compost, helping the user to take a more selective action with the waste. The artificial intelligence Chatbot aspect to the app also communicates through text or language and learns how to better respond to user's questions.
The app developed by Team Pick It Up from UT Austin makes it easier for users to report excessive trash or an illegal dumpsite, turning such actions into an interactive game. The game is intended for individuals aged 19 and younger who may not fully understand the environmental impact of their own littering. By using the app's camera function, trash found on the street can be analyzed and choices can be offered from the analysis.
"If you have time, and you want to, you can pick up the trash, and when you click on it you send something to the web server and what happens is that it updates the data behind the scenes," one member of the team said. A grid overlay of the area indicates how much activity is going on in that area between trash being found and reported versus picked up and reported, which helps indicate where some of the more ignored areas of a region may be.
If litter is marked but not picked up, then facts about litter, which can be set to reflect local information and statistics, will pop up in the app for the user.
Team Lotus brainstormed an app that could regulate the goals a user had for a day by harnessing all the information other apps were gathering about the user on subjects as diverse as personal fitness or home energy use. By utilizing multiple computer languages, Lotus has the potential to "map" all of the user's apps and display the user's efficiency at achieving targeted goals on one central app. Lotus could be used to augment and adjust the other apps to reflect any changes to goals a user might enter.
Pablo Peillard of one-man Team LitterToss created an augmented reality game that turns the simple task of throwing litter into a trash can into a competition in which individuals could score and earn rewards.
The developer originally conceived of a map format game where players could find and throw away real trash, but considered that it might generate an unintended incentive to cheat, with gamers actually creating more litter.
Instead, Peillard believes his app may alter gamers' overall behavior in a positive way, connecting the earning of points in the augmented reality world to the benefits of properly disposing of litter in the real world.