National African American museum tour in great demand
BETH J. HARPAZ | 5/15/2017, 12:41 a.m.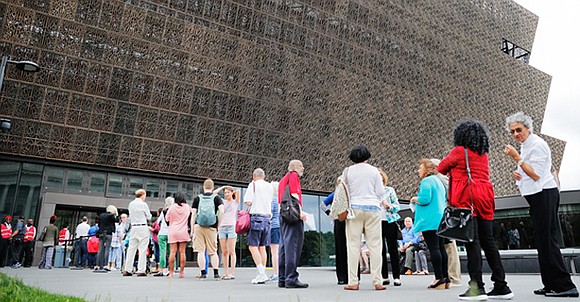 The museum explores everything from the history of slavery and civil rights to celebrations of pop culture. Visitors come from all over the world. Research suggests that about 40 percent of visitors are Black.
Holman Conwill said, "There's no way we won't pop 2 million" visitors by the one-year anniversary in September.
On Friday, the museum opens its first special exhibition, More Than A Picture, showing more than 150 photos and objects. The show will include portraits of famous individuals ranging from Frederick Douglass to Queen Latifah, along with images from Hurricane Katrina and recent protests in Baltimore and Ferguson, Missouri. The show will be up for six months.
Holman Conwill said sales in the museum store have also been strong, with several books published by the museum selling so well they've gone into second and third printings.
Why is the museum so popular? She noted that many visitors come to Washington on a history "pilgrimage," visiting museums and monuments. The new museum fills a "gap" between the ideals of America as enshrined in the Constitution and the reality of slavery, the Civil Rights Movement and other ways in which "American has had to struggle to reach its ideals."
"The making of this nation is inextricably tied to Black Americans," she said. "There's a hunger for understanding that more deeply and seeing it through a different lens."