Reducing pollution through Plasticity
DENISHA McKNIGHT | 5/15/2017, 12:47 a.m.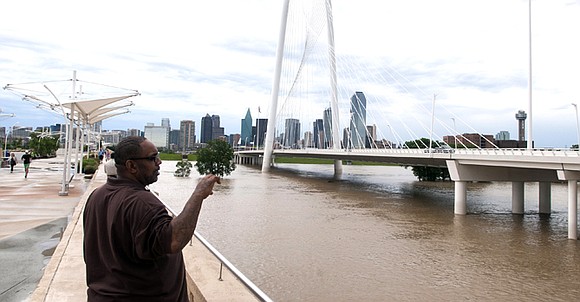 The Dallas Examiner
The city of Dallas, specifically the Southern Dallas area, has encountered many environmental issues recently. In February, the Dallas Independent School District released a water report highlighting several schools with high levels of copper and lead in the water.
These schools included: Billy Earl Dade Middle School, James Madison High School, Lincoln High School, Skyline High School, Woodrow Wilson High School, Wilmer-Hutchins High School and Middle School, D.A. Hulcy STEAM Middle School, Preston Hollow Elementary and N.W. Harllee Early Childhood Center.
In addition to water contamination, some school buildings are in poor condition and filled with pollutants such as mold. Earlier this year, Sarah Zumwalt Middle School students were relocated to A. Maceo Smith New Tech High School due to mold overgrowth in classrooms.
With life-threatening events affecting children's health, it has become more important for local residents to take action against pollution issues and clean up the area. Recycling could be that step in the right direction.
During the Earth Day Texas festival, the Plasticity Forum came to the city for the first time and provided a great deal of information that could solve current environmental issues and save lives.
"This impacts billions of people everyday," said Douglas Woodring, Plasticity Forum founder. "It's not like climate change that might come tomorrow in a big storm. It's impacting water quality for people today. Health issues and transportation problems today."
Many people don't see the reasonable value in something as simple as a water bottle, according to Woodring.
"The trick with plastic is that it does not easily go away," he said. "It's built to be durable and lightweight, and that's why it makes such a good product. [However], at the same time, that's why it causes a challenge. It's lightweight, so people don't want to pick it up because it is not valuable enough for them to go make some money from turning it in."
Currently, Texas has a 19 percent recycling rate, and Dallas is ranked as the 11th most polluted city in America by a State of The Air 2016 report, which results in multiple health risks such as water contamination, illnesses and increased ozone levels.
Moreover, on a wider scale, the Trump administration is close to making a decision on whether to withdraw from the Paris Agreement on climate change, which would bring the problem to an end.
The quality of life weighs heavily in recycling plastic. The value of plastic lies within its afterlife – the material after it is first used. When it is recycled, the resource can be used as gasoline and energy for communities throughout the nation, according to Woodring.
"Afterlife, we have to get it back," he said. "If we don't get it back, it does damage to our water and to our cities."
Recycling can provide many benefits to communities nationwide.
"If you recycle plastic, roughly you save 70 to 90 percent of energy, so recycling plastic uses much less energy than emerging plastic coming out of the ground," the Plasticity founder said.