Reducing pollution through Plasticity
DENISHA McKNIGHT | 5/15/2017, 12:47 a.m.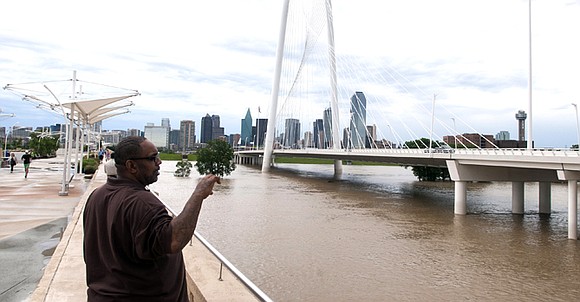 Also, recycling creates more jobs in the community where citizens can get paid and keep neighborhoods clean at the same time.
"It is proven that [the] recycling industry creates anywhere from 10 to 20 more jobs in the city than landfilling does," Woodring said. "With landfilling, it's just a truck backing up into an open lot, but with recycling, you need people to pick it up, recycle it, clean it up, purify it, and make it into a new product."
However, there are many obvious challenges in turning plastic into fuel from its initial process to actually obtaining the material for fuel consumption.
"The problem with plastic isn't going away. It's increasing by 4 percent," said Stuart Clark, managing director of FOY Group, a company specializing in converting non-recyclable plastics into usable products. "One of the things we have to look at generally is segregating the plastics of the outsets. The problem with managing the community is the waste gets bumped together. It is possible to separate the waste, but that's not universally done. So, the key is to separate that waste so it can be turned back into ready fuel."
Manual recycling also struggles to compete with landfilling – an easier way of disposing trash yet hazardous process that adds to air pollution.
"One of the biggest challenges to recycling is the hole in the ground," Woodring said. "It's much cheaper to drive over the hole in the ground, which is the landfill we create, than to fund waste. The cost of them re-sorting that is too high. That's why the U.S. exports a lot of its waste."
The cost of overall environmental quality places a huge burden on residents that they may be unaware of.
"The cost to clean up, fix water quality problems, tourism and general degradation of that living environment is cost we pay as consumers and as a community for not having good waste processing," Woodring explained. "When a company says 'That cost too much to make it,' they're simply putting the cost on us – the taxpayer – to be the one's who have to fix the problem after that gets out there. Those [costs] are not externalized."
To fix this problem locally, the Plasticity founder advised that people challenge corporate organizations in the area to get involved.
"If you had a better deposits of locations or a reward system built in where people bring that material which is sorted, more pure and easier to use to come to that location to get that reward to some benefits and the corporate gets some benefit, everyone is winning in that scenario, and the local community is getting a cleaner environment," Woodring said. "The local government may not have the money or the capacity to send the trucks around and do the proper recycling the best way. You can get corporates on board with that to be part of that community engagement."
On a neighborhood level, local residents may begin recycling by calling the city for a personal recycle bin or visiting recycling drop-off locations at parks, schools and centers such as Kiest Park, Exline Recreation Center, South Oak Cliff High School and Highland Hills United Methodist Church.
Only paper, cardboard and boxboard, cartons, metal cans, glass and plastic containers can be recycled. Plastic bags and films can be taken to your local stores for recycling, and metal hangers can be taken to your local laundromat.
Shredded papers should be composted, and items such as furniture, electronics, light bulbs and hazardous waste may be dropped off at a local donation center, landfill, the Dallas Home Chemical Collection Center or at a transfer station such as the Southwest Transfer Station, located at 4610 S. Westmoreland Road.
For information on recycling and drop-off locations, visit http://www.dallascityhall.com.