Sessions sparks fear with push for harsh sentences
SADIE GURMAN | 5/19/2017, 7:53 p.m.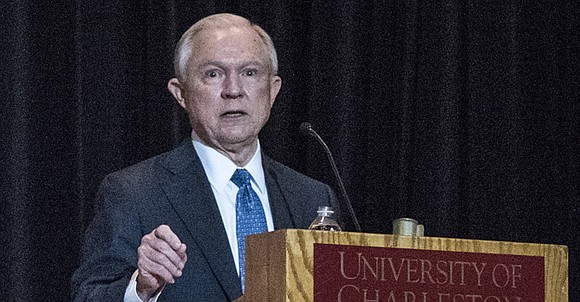 The directive rescinds guidance by Sessions' Democratic predecessor, Eric Holder, who told prosecutors they could in some cases leave drug quantities out of charging documents so as not to charge suspects with crimes that trigger long sentences. Holder's 2013 initiative, known as "Smart on Crime," was aimed at encouraging shorter sentences for nonviolent drug offenders and preserving Justice Department resources for more serious and violent criminals.
In a statement Friday, Holder called the reversal "dumb on crime," saying it would be "financially ruinous" for the department to focus its spending on incarceration rather than preventing and investigating crime.
"It is an ideologically cookie-cutter approach that has only been proven to generate unfairly long sentences that are often applied indiscriminately and do little to achieve long-term public safety," Holder said.
The Obama policy shift coincided with U.S. Sentencing Commission changes that made tens of thousands of federal drug prisoners eligible for early release, and a clemency initiative that freed convicts deemed deserving of a second chance. Combined, those changes led to a steep decline in a federal prison population that now stands at just under 190,000, down from nearly 220,000 in 2013. Nearly half of those inmates are in custody for drug crimes, records show.
Obama officials cited that decline and a drop in the overall number of drug prosecutions as evidence that policies were working as intended. They argued prosecutors were getting pickier about the cases they were bringing and were seeking mandatory minimum sentences less often.
Still, some prosecutors felt constrained by the Holder directive and expressed concern that they'd lose plea bargaining leverage – and a key inducement for cooperation – without the ability to more freely pursue mandatory minimum sentences.
The reversal restores prosecutors' tools to go after drug traffickers and gangs, said Lawrence Leiser, head of the National Association of Assistant U.S. Attorneys.
Sessions has remained an advocate for longer sentences, even as efforts to overhaul the criminal justice system secured bipartisan support in recent years. He argues Holder's approach sidestepped federal laws that impose such sentences and created inconsistency across the country in the way defendants are punished.
"I trust our prosecutors in the field to make good judgments," Sessions said. "They deserve to be unhandcuffed and not micro-managed from Washington. Rather, they must be permitted to apply the law to the facts of each investigation."
Associated Press writer Errin Haines Whack in Philadelphia contributed.