Six top performing Dallas ISD seniors receive $20,000 scholarships
Special to The Dallas Examiner | 5/22/2017, 9:29 a.m.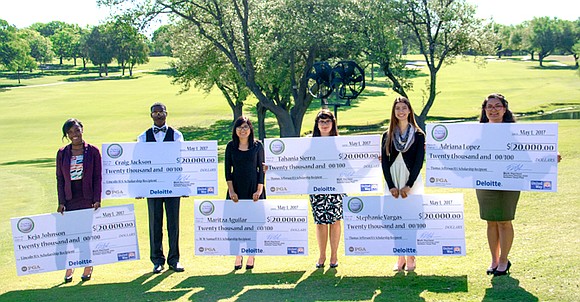 Special to The Dallas Examiner
Six Dallas ISD students will be awarded and join the 38 previous recipients of the 2017 Deloitte/NTPGA Fairway to Success Scholarships, according to Deloitte LLP, The Northern Texas PGA and United Way. The recipients, Maritza Aguilar, Craig Jackson, Keja Johnson, Adriana Lopez, Tahania Sierra and Stephanie Vargas, who will each received a $20,000 scholarship towards his or her continuing education, were honored at a breakfast on May 1 at Lakewood Country Club.
Established in 2007, the Fairway to Success Program annually awards scholarships to students based on academic performance, extracurricular activities, community involvement and financial need. Fairway to Success is helping to impact and change the lives of young people in our community.
The program is conducted at three Dallas Independent School District high schools – W.W. Samuell, Thomas Jefferson and Lincoln high schools – and includes exposing students to golf and the life lessons of discipline, honor and integrity that are central to the game. These schools were originally selected by Dallas ISD for their level of need, lack of outside resources and by virtue of concurrent participation in the Destination: Graduation program offered through United Way of Metropolitan Dallas.

During 2016-2017, the five-week after school golf program, conducted in the fall and spring, boasted high participation, with 137 Dallas ISD high school students learning the basics of golf from PGA golf professionals. By completing the program, students earned the right to participate in a field trip to a local golf course, and graduating seniors who qualified by participating in the program had the opportunity to apply for a college scholarship.
Since its inception, the program has awarded $880,000 to 44 Dallas ISD students through the individual contributions of Deloitte partners and professionals in North Texas who have raised more than $1.7 million to date to an educational endowment.
"For many of the students we work with through the Fairway to Success program, golf serves as a means to introduce and help instill some valuable life lessons," said Jason Downing, North Texas managing partner and Central region market leader at Deloitte. "By learning the basics of the game from NTPGA professionals and being paired with a Deloitte mentor, these talented young people are receiving guidance and learning new skills that we hope will last for a lifetime."
Fairway to Success also includes a mentorship program designed to support scholarship recipients throughout their college careers. Recipients interact with Deloitte mentors who share their insights gained from working in a professional services environment. Deloitte mentors also help students explore potential career opportunities in the business and STEM-focused fields of study. Finally, the NTPGA employs two Fairway to Success recipients as interns each summer. It also furthers the intern's golf education and exposure that began on their high school campuses through Fairway to Success.
"As the program has developed, they have been adding components. One of the main components is the mentor program. The kids will be assigned a mentor who will guide them, not just getting into college, but all the way through. So, we have added a layer of support that the kids did not have beforehand. It's memorable, it's positive, it's supportive, and without these mentors in the kids' lives some of them may not of been successful," said Coach Matthew Summers, teacher and golf coach at Thomas Jefferson High School.