Today is the first day of our next 100 years
DERRICK JOHNSON and LEON W. RUSSELL | 5/29/2017, 9:21 a.m.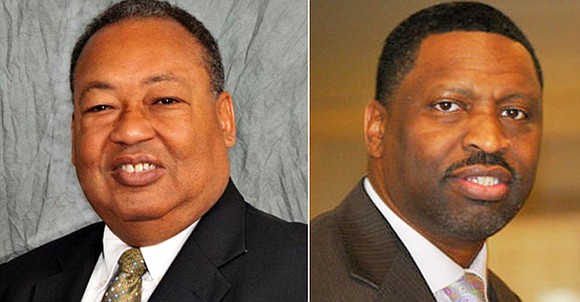 The answer is this: We're not going to agonize – we're going to organize.
True to our legacy, the NAACP has never shied away from change – in fact, our mission has been to embrace it. And that is exactly what we will do again now, in three main actions.
First, we will refresh our leadership and our priorities. It is clear that we must find new ways to confront head-on the many challenges presented by today's uncertain political, media and social climate. That will require new perspectives and new voices, to both help us carve out that new path and communicate to the next generation of activists and advocates.
When you have been doing the same thing for 100 years, you cannot expect continued impact – we need to change our vision in order to be the nimble and innovative civil rights organization that our nation needs today.
Second, while we search for our organization's next leader to take the helm, we will begin by conducting a comprehensive assessment of our infrastructure and operations, as part of a strategic re-envisioning. We want to better understand – and hear directly from our members – what we do well and what we can do better.
How are we working on the ground to address the modern-day threats to our civil rights? How can our Executive Team support those efforts? We know that our branches are what make our organization unique – they are carrying out local work with national importance – and we want to ensure that every single one of them has the platform that they need in order to keep fighting for the rights of Black Americans to live free from harm and oppression.
And third, and most importantly, we will hear from you, the American people.
In the coming months, our leadership will embark on a listening tour for the first time in our history. It is clear that Americans of all genders and ages, from all of the corners of all 50 states, have been aching to be understood, to be seen – and now, they are demanding to be heard. We want to meet those demands, and in doing so, ensure that we are harnessing the energy and voice of our grassroots membership as we pursue transformational change.
As we reimagine ourselves, we want to be formed in the likeliness of the people whom we serve – and to do so, we must first see, meet and listen to them.
Amid this transformation, one thing will never falter – our steadfast and unmovable commitment to fighting for justice and equality for our community. The times may change, but the NAACP has never been readier to face them.
We will continue to advocate for the advancement of communities of color in this country, stronger and more resilient than ever before.
Today is the first day of our next 100 years.
Leon W. Russell is the Chairman of the NAACP board of directors, and Derrick Johnson is the vice chairman.