Dallas ISD hosts education summits for community
Special to The Dallas Examiner | 11/13/2017, 6:54 p.m.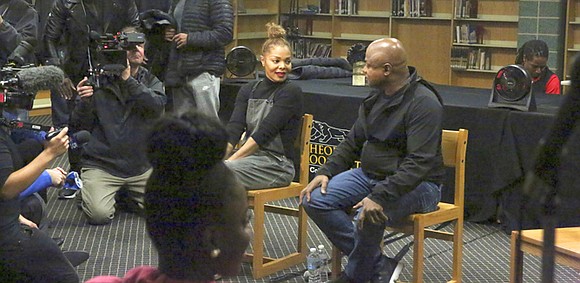 Dallas ISD hosts education summits for community
The Dallas Independent School District will launch a planning program to create a strategic and innovative vision for Dallas ISD learning, technology and facilities design. To launch this process, the district will host four education summits and encourages all stakeholders to attend one of the summits.
Parents, students, district staff, business leaders and community members will have an opportunity to share their innovative vision of the future.
Attendees will have the opportunity to learn more about the learning, technology and facilities planning process and hear from a student panel.
Upcoming meetings:
• Nov. 7 from 6 to 8 p.m. at W.T. White High School, located at 4505 Ridgeside Drive and South Oak Cliff High School, located at 3601 S. Marsalis Ave.
• Nov. 9 from 6 to 8 p.m. at Emmett J. Conrad High School, located at 7502 Fair Oaks Ave. and W.W. Samuell High School and Early College, 8928 Palisade Drive.
Free childcare and refreshments will be provided at each location.
Additionally, community members can provide feedback through an online survey now through Nov. 10. The survey will also be posted on the district and campus websites. The district is also hosting a series of focus groups representing various stakeholder groups through early November.
Information, feedback and input gathered at the summits, focus groups and from the survey will be used by a design team comprised of citizens and district staff who will create a community-focused strategic direction for technology and facilities. This strategic direction will include a set of community beliefs, call to action, goals, action steps and a learner profile. It will allow also Dallas ISD to measure student learning and serve as a guide for the district as it makes future decisions regarding instruction, technology, budgeting, staffing and facility planning.
As the district embarks on this process, all summits, documents and resources will be posted online at www.dallasisd.org/envisiondallasisd for community members to stay informed. The district will provide updates throughout this process.
Janet Jackson visits small childhood home in Indiana
GARY, Ind. (AP) – Singer Janet Jackson and her brother Randy Jackson have visited their childhood home in Gary, Indiana, and talked with local high school students.
The Times of Northwest Indiana reports that the Jacksons made the visit Friday, a day after Janet Jackson's concert in the Chicago area. Janet Jackson told students at Roosevelt High School that she started crying when she saw the small house. She said, "me and my family are so blessed. I'm so thankful."
The 51-year-old said she was 8 years old the last time she was in Gary. The family moved out of the industrial city about 30 miles southwest of Chicago after the Jackson 5 recorded their first album in 1969, when Janet Jackson was a toddler.
She also admitted she misses performing with her siblings.
Louisiana college sought for teacher training consortium
BATON ROUGE, La. (AP) – Louisiana's education department is looking for a college in the state willing to be the home base for a teacher training initiative.