Dallas ISD hosts education summits for community
Special to The Dallas Examiner | 11/13/2017, 6:54 p.m.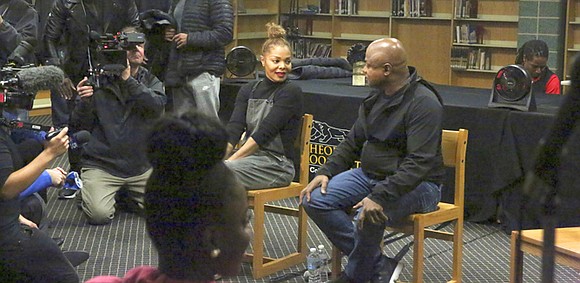 The education department released its application for higher education institutions to apply to house the Louisiana Educator Research Consortium for a five-year period.
The college that hosts the consortium will organize research, convene experts from around the state to do research, seek grant financing and work on teacher preparation policy. The college will receive $50,000 in start-up funds to begin the consortium's work.
Superintendent of Education John White said the consortium's research and work will culminate with recommendations on how to better prepare educators for the classroom.
The application deadline is Nov. 17. A committee representing K-12 and higher education agencies will choose the college host.
High school coach blasts ref who reviled anthem protest
MONROE, N.J. (AP) – A high school football coach criticized a referee who refused to officiate a game after members of the opposing team knelt during the national anthem.
Referees Ernie Lunardelli and his son, Anthony, said they told officials from Colts Neck and Monroe high schools before Friday night's game they would walk off the field if any players protested. They said they respect players' right to protest but believe such acts are disrespectful.
Colts Neck Coach Darian Barnes told NJ.com that Ernie Lunardelli yelled at Monroe players after some knelt, and he had to be pulled off the field, accusations Lunardelli denies. Lunardelli said he only stopped on his way off the field after a coach from Monroe yelled at him.
"One of the coaches said something and it kind of irked me, and I just turned around and I was looking to see who it was," Lunardelli said. "Nobody pulled me; I walked off."
Barnes agrees referees and players should be able to express their views but says Lunardelli was "a coward" to yell at the teenage players.
"It wasn't difficult to watch those kids kneel and it wasn't difficult to watch him leave the game because of it," Barnes said. "His anger was difficult. His anger, the way he yelled, the look on his face – it bothered ... me."
Barnes also said he was told before the game by the head referee that the crew had asked the Monroe players who might kneel to stay in the locker room for the anthem to avoid any problems.
The trend of kneeling during the national anthem started in the NFL, where some players kneel to protest social injustices, particularly against African Americans.
ACLU wins appeal in 'White supremacist' defamation suit
NASHVILLE, Tenn. (AP) – A Tennessee woman does not have to pay thousands of dollars to a man who she called a "White supremacist" on Facebook after she saw that his vehicle had bumper stickers promoting the Confederacy and a Southern nationalist group, a court ruled Oct. 26.
The Tennessee Court of Appeals' Middle Division reversed a lower court's decision, finding that defendant Lisa Rung hadn't defamed Robert Weidlich and therefore doesn't owe $7,000 in damages, The Tennessean reported.
Representing the defendant, the American Civil Liberties Union said Rung was offended by comments Weidlich made against the LGBT community at a school board meeting. At the time, Weidlich's wife was considering running for the school board in Franklin County. After the meeting, Rung noticed Weidlich's bumper stickers, including one promoting the League of the South, which the Southern Poverty Law Center lists as a neo-Confederate hate group. Another featured the word "SECEDE" next to a picture of a Confederate battle flag.
Rung later posted a photo of the vehicle on Facebook, referring to Weidlich's family as "White supremacist(s)."
Weidlich, then sued, testifying that publicity surrounding the post had hurt his auto-mechanic business. He denied being a White supremacist or being associated with any White supremacist groups.
The court ruled that Rung's statement was a "grave accusation," but she had not made it without context and had instead crucially included a photo of the bumper stickers in the post.
"Anyone reading Rung's post had full access to the facts available to Rung – the photo. So informed, readers were free to accept or reject Rung's opinion as they saw fit," the court wrote.
It is unclear whether Weidlich plans to appeal the ruling.
In a statement, ACLU-TN's legal director Thomas Castelli said that speaking out without "fear of unwarranted legal retaliation is particularly important in today's heated political climate."
"Expressing your opinion that someone is a racist when they do things that are racist is not unlawful – it's protected by the First Amendment," Castelli said.