The Domino Effect: Fats Domino mined New Orleans roots in pioneering music
STACEY PLAISANCE and JANET McCONNAUGHEY | 11/13/2017, 6:19 p.m.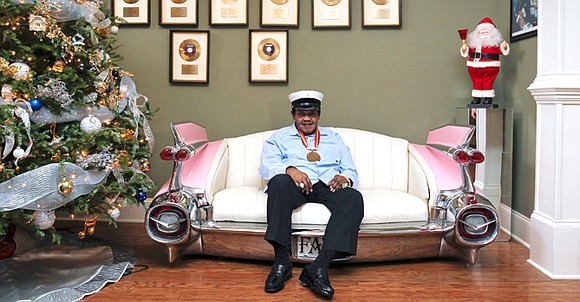 NEW ORLEANS (AP) – Fats Domino didn't look like a typical teen idol. He stood 5-feet-5 and weighed more than 200 pounds, with a wide, boyish smile and a haircut as flat as an album cover.
But Domino sold more than 110 million records, with hits including Blueberry Hill, Ain't That a Shame and other standards of rock 'n' roll.
The amiable rock 'n' roll pioneer whose steady, pounding piano and easy baritone helped change popular music, even as it honored the grand, good-humored tradition of the Crescent City, died last Tuesday of natural causes at the age of 89.
Domino's dynamic performance style and warm vocals drew crowds for five decades. One of his show-stopping stunts was playing the piano while standing, throwing his body against it with the beat of the music and bumping the grand piano across the stage. He kept performing long after his last hit, a 1968 remake of the Beatles' Lady Madonna that featured his pumping piano riff. He said he stopped making records after that because he refused efforts to change his style, saying "it just wouldn't be me."
Domino's 1956 version of Blueberry Hill was selected for the Library of Congress' National Recording Registry of historic sound recordings worthy of preservation. The preservation board noted that Domino insisted on performing the song despite his producer's doubts, and that Domino's "New Orleans roots are evident in the Creole inflected cadences that add richness and depth to the performance."
He was one of the first 10 honorees named to the Rock and Roll Hall of Fame, and the Rolling Stone Record Guide likened him to Benjamin Franklin, the beloved old man of a revolutionary movement.
Domino became a global star but stayed true to his hometown, where his fate was initially unknown after Hurricane Katrina struck in August 2005. It turned out that he and his family had been rescued by boat from his home, where he lost three pianos and dozens of gold and platinum records, along with other memorabilia.
Many wondered if he would ever return to the stage. Scheduled to perform at the New Orleans Jazz and Heritage Festival in 2006, he simply tipped his hat to thousands of cheering fans. His friend Haydee Ellis said then that Domino was "OK, but he doesn't feel up to performing."
But in May 2007, he was back, performing at Tipitina's music club in New Orleans. Fans cheered – and some cried – as Domino played I'm Walkin', Ain't That a Shame, Shake, Rattle and Roll, Blueberry Hill and a host of other hits.
That performance was a highlight during several rough years. After losing their home and almost all their belongings to the floods, his wife of more than 50 years, Rosemary, died in April 2008.
Domino moved to the New Orleans suburb of Harvey after the storm but would often visit his publishing house, an extension of his old home in the Lower 9th Ward, inspiring many with his determination to stay in the city he loved.