NASCAR's first Black female crew member
MIKE McGEE | 11/13/2017, 6:25 p.m.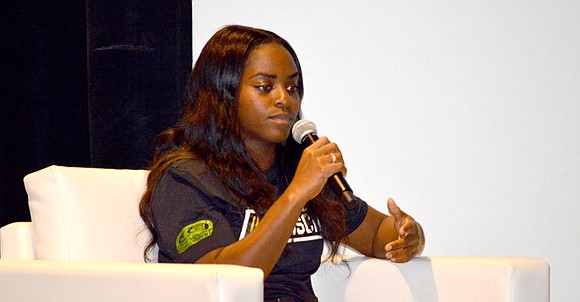 The Dallas Examiner
Color barriers and gender barriers; the sports world is full of their shattered remains, from Jackie Robinson breaking down the barricade in front of Major League Baseball in 1947 to Althea Gibson opening the door to international tennis for Black athletes by winning the French Open, Wimbledon and the U.S. Nationals in the 1950s.
And the walls continue to come tumbling down. This summer, Brehanna Daniels, 23, had the unique position to become the first African American female to serve on a pit crew for the National Association for Stock Car Auto Racing.
As the Norfolk State University alum spoke in New Orleans during the National Association of Black Journalists convention, she discussed the efforts of NASCAR's Drive For Diversity program – an initiative begun in 2004 to develop minority and female athletes as drivers and pit crew members.
"The program includes weekly hands-on over-the-wall position training and coaching for tire changers, tire carriers, fuelers and jackmen, as well as weight training, agility and footwork programs," according to a NASCAR Drive for Diversity Pit Crew Development Program statement.
Daniels acknowledged that part of the impetus behind Drive For Diversity is the changing demographic of the sport; a contest of speed and mechanics primarily appealing to Whites at one time now draws spectators and, to a lesser degree, drivers of every ethnic spectrum. Although she wanted to be a part of that growing demographic, pit crews that maintained the race cars between laps were devoid of African American women until Daniels stepped forward.
The former HBCU student, a guard on the Norfolk women's basketball team, admitted that choosing to become a maverick of color and gender in motorsports was "random." She described to the audience how she was approached by Tiffani-Dawn Sykes, the NSU women's basketball announcer.
"'You know NASCAR Victory is coming to our school Wednesday … to host a tryout for the pit crew and I've been thinking you should try out,' and I'm like, 'Tryout? Me, in the pit crew? Like, what is that?'" Daniels recalled of the exchange.
She mentioned that after watching a video Sykes provided of pit crew activity, she better understood what it would entail. It was the guard's athletic skill and hard work that caught the attention of the announcer, who considered Daniels perfect for a NASCAR crew spot.
She described the tryout, which took place in a campus gym.
"I was the only girl at the scene. I'm in a gym, looking around like, okay … they surround you with cars the first day," she said.
In a separate interview, Daniels told Lee Mengitsu of the NABJ PR Student Projects, "I ended up doing a really, really good job. Coach Horton – Phil Horton; he's who came to recruit us – he said 'You'll definitely be hearing back from us.' He told me more than once so I know I did a good job."
Horton himself is one of the first African American pit crew coaches and NASCAR athletic trainers.