PUSHing Through: Rainbow PUSH founder reveals he has Parkinson's disease
ROBYN H. JIMENEZ | 11/20/2017, 1:11 p.m.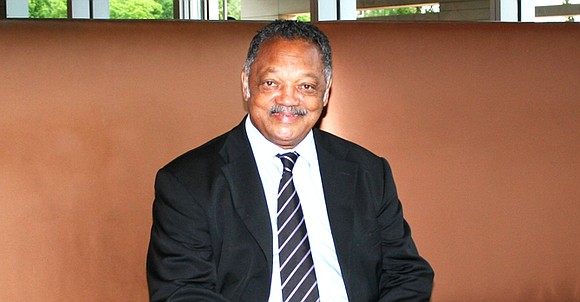 The Dallas Examiner
Jesse Jackson Sr., long-time civil rights warrior and founder and president of the Rainbow PUSH Coalition, announced Friday that he had recently been diagnosed with Parkinson's disease.
Parkinson's is a neurodegenerative disorder that affects neurons in a specific area of the brain. Symptoms develop slowly over the years, ranging greatly from person to person and potentially including tremors, slowing movements, ridged limbs, balance problems and problems with walking, according to the Parkinson's Foundation, which estimates seven to 10 million people are living with the disease around the world – 1 million of which are American.
During Jackson's announcement, he first took time to reflect on his first time being arrested during a protest for the right to use a public library in his hometown of Greenville, South Carolina, that he participated in during his college years, on July 17, 1960. That day marked a pivotal point in his journey, in which he lost his fear of being arrested and soon met Dr. Martin Luther King Jr. The sequence of events moved him to dedicate his life to fighting for justice, equality and equal rights for all.
"Throughout my career of service, God has kept me in the embrace of his loving arms, and protected me and my family from dangers, seen and unseen," Jackson opened up in a letter to friends and supporters.
"Now in the later years of my life, at 76 years old, I find it increasingly difficult to perform routine tasks, and getting around is more of a challenge. My family and I began to notice changes about three years ago. For a while, I resisted interrupting my work to visit a doctor. But as my daily physical struggles intensified I could no longer ignore the symptoms, so I acquiesced."
He went on to reveal that after a battery of tests, he received his diagnosis. Jackson noted that his father, Noah Lewis Robinson, had the same disease. Robinson died in January 1997 of a heart attack and complications from Parkinson's. About 10 to 15 percent of those diagnosed are thought to have genetic forms of the disease, according to the foundation.
"Recognition of the effects of this disease on me has been painful and I have been slow to grasp the gravity of it. For me, a Parkinson's diagnosis is not a stop sign but rather a signal that I must make lifestyle changes and dedicate myself to physical therapy in hopes of slowing the disease's progression," Jackson expressed.
This may help answer questions many have had about his health for the last few years, including last year when many wondered if he had a stroke, Bells Palsy or age-related issues as he struggled to read his speech during the 2016 Democratic National Convention.
Al Sharpton, another civil rights trailblazer and president of the National Action Network, stated that he was with Jackson and his family during the announcement.
"As I watched him I was reminded of the greatness of this man," Sharpton expressed. "How he continued Martin Luther King Jr.'s movement for justice making it national; how he perfected economic boycotts and corporate responsibility in the 21st century; how he changed American politics with his presidential runs; to how he influenced American foreign policy, Reverend Jackson has changed the nation and served in ways in which he never got credit. We pray for him, just as he fought for us."