Dallas ISD's mission to save the district – Part Two: The aftermath
ROBYN H. JIMENEZ | 10/2/2017, 5:48 a.m.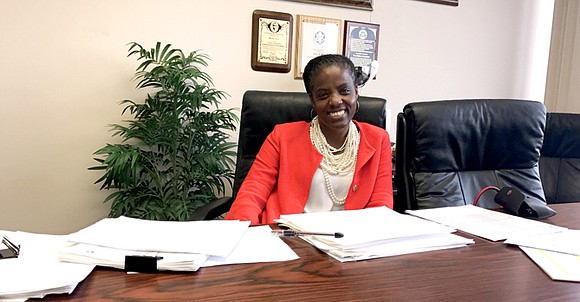 "Well, I thought if we're able to pay our debt that's not a bad deal," Foreman recalled. "And we can move some additional dollars over to the M&O. And I kind of went along with that in hope that we could get the rest of the board to agree. But after that 2 cent tax swap failed, 13 cents failed and then 6 cents failed, well, then Trustee Blackburn made a motion for just a 2 cent TRE, which was not a tax swap."
The trustees also expressed concern in regard to Robin Hood/Recapture – taxing citizens in which millions of those dollars would be returned back to the state. This would take place with the 13 cent and 6 cent options, which would raise property taxes, and millions of those dollars would be sent to Austin. The 2 cent tax increase would raise property taxes slightly, but not enough to obligate the city to pay the state.
"Nobody wants to speak about why would you raise people's property taxes, get some money in the district but some will go back to the state. The state gets to do what they want with that money because we become a rich district," Nutall explained.
Foreman said she just couldn't see adding that burden onto citizens' property taxes, especially as property taxes continue to rise.
"After we went through those three, I had a thought because someone said we don't want to take money from the I&S," Blackburn explained. "So my thinking was: Let's do the 2 cent increase and they keep the 2 cent in the I&S just as it is, no swap. And my colleagues, Bernadette Nutall and Joyce Foreman, they looked at me like, that's not what I want to do. But they said that would be the compromise to still get the money to go toward campuses and $12.2 million would go to paying salary increases for campus staff.
"We had already voted in our budget to give the teachers a little raise, but we need this $12 million from either one of the TREs to take care of our needs for the rest of the staff on the campus. But it failed because three people said no, and because of those three people, we don't have any options right now to give our teachers a raise."
Foreman said she agreed because it would be less of a tax burden. She said she knew there would people who would insist that the trustees let the voters decide if they wanted the 6 cent or 13 cent options but said she had concerns there would have been a strong campaign in its favor, saying that the Dallas Regional Chamber had already put in funds to support it. She also had concerns that many people did not fully understand the TRE.
The budget
The trustees also discussed a couple of high-priced items that Dallas ISD added to its budget, he first being the new $46.5 million building that the district purchased – located off of Highway 75 in North Dallas. The second item was the new Dallas ISD logo for $150,000, which would be added to all signage, stationary, etc. throughout the district. Though the items seem to be expensive, the board felt they were needed to update and keep up with the changing district.