Oak Cliff redevelopment plan met with contention, fears
MIKE McGEE | 10/2/2017, 5:50 a.m.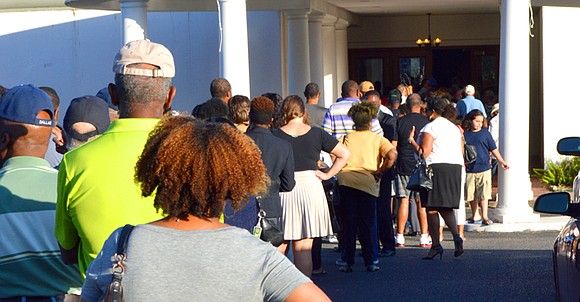 Houston did consider not opposing an upzoning of the property for million-dollar homes. He lives in the area and confirmed he understood why there is mistrust of city government but offered, "at the same time, I want to be part of the solution, too."
It was made clear through the night that smaller-sized lots and the number of houses "stacked" - as some warned - onto such lots were of great concern to residents.
Photos of past Huffines developments were on display, but exact details of what might come to the area were not available. In fact, the meeting was intended to be a sounding board, the founder himself there to learn what the neighborhoods were willing to accept.
"If there's housing here, what kind of housing do you want?" Huffines asked at one point.
The answers throughout the rest of the evening were filled with emotion. Suggestions ran the spectrum from no deal at all to the city buying the club with a bond election; specialized yet minimal development to total approval of full development. Joyce Foreman pointed out that the Neighborhood Plus revitalization plan lists the golf club first as one of the amenities of living in the Red Bird area.
"I think there's been a lot of misconceptions about the people in this community. We don't mind new homes. We want development, just not on this property," she spoke out against the proposal. "There's a lot of vacant land in this area. I would direct you to Red Bird Lane and 67, which I believe is owned by the city. That's a lot of land."
"'It's a great community. We're going to build there – and make it completely different than what makes it great,'" another resident in opposition mockingly called out on potential changes. "Charming," was how she described both the homes and the people in the surrounding communities.
"My kids are seventh generation Oak Cliff. We live here, we die here. Brother, sister, grandmother, grandfather. Everyone is always in Oak Cliff. And it's because there are plenty of White people, plenty of Black people, plenty of Mexicans. Spanish-speaking, non-Spanish-speaking," she exclaimed. "If I wanted to go live in a poor man's Plano, I'd go to The Colony, but I want to be here in Oak Cliff with a bunch of people that I care about."
After hearing more comments against development than in support, Huffines stated with apparent pessimism, "You haven't related to me that you would like any kind of nice community here," in reference to the club.
Others backed the development. One woman who identified herself at a past president of the Women's Council of Realtors believes change is inevitable and supported the plan, but acknowledged that residents needed be involved in the decision-making.
"Mr. Huffines is a businessman. He's done his homework. He knows what the property values are," she affirmed. "If we don't see some development in this community – houses bring shops and stores and restaurants. I for one would love another store, an H-E-B… but houses bring stores. We can't tell somebody not to develop on the golf course. It's going to happen, whether we allow it or not, whether we vote for it or not."