Dallas Black Dance Theatre 2017 Exhibition
MIKE McGEE | 10/8/2017, 10:05 p.m. | Updated on 10/10/2017, 4:59 p.m.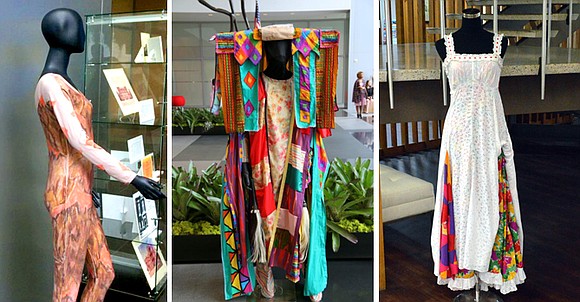 Williams acknowledged that the parents of the original students who joined the company were the biggest backers of the DBDC once a final home at the Mooreland YMCA was secured. They were involved enough in their children's lives to come to performances over and over. She further said that some of those original parents are taking in performances to this day.
Both women also took a moment to ruminate on the importance of the DBDT as a cultural jewel within the context of a larger society.
"When you know where you've been, you know where you going, and it's really important for our young people to know what is in their past," the performer said. "What has been here for them and how we have evolved, and are moving towards our future – that they are a part of all of that – and so it is really important for them to know that history, that culture, because it gives them that pride of being a Dallasite as well as being an African American. And it makes them a little bit, I think, more successful in their own lives, gives them a little more esteem," she noted.
Williams agreed, adding, "I would say that word 'self-esteem' is what we've always tried to build in Dallas Black Dance Theatre. Not just the dance, not just the movement, but that total child; making them feel a little different because they were taking dance. It's almost like, if your mom puts you in piano, you're in art, or something, you're a little different.
"You have something, and of course when you're in any type of art and gaining any type of art experience, it's a creative thing that will prepare you for a lot of challenges that you're going to have in life," she added, referencing her former dancer. "You are at a place that has a history and, what I think she and I would always expect, is for this continue and to carry on."
McNeal considered what the exhibition means beyond all else.
"The most important thing is that this was something that was in our hearts and in our minds, and we went with it, and when you dream sometimes things come true," McNeal said.
Williams then reflected upon her own glories by giving a nod to others.
"Although we were there from the beginning, and we felt we did our part – she had dreams; I had dreams," Williams commented on her efforts and that of McNeal. "But we had support for these dreams from so many others, because you could never make this by yourself, you know.
"And so, at this point we really want to let others know how grateful we are for supporting what we thought we had originated and didn't know where it was going, and could not have come this far without the support of our families, our friends, the community, the many organizations, because Dallas Black Dance Theatre started out as a community."
The company begins its 41st season with the yearly DanceAfrica program, Oct. 6 and Oct. 7 at 7:30 p.m. showcased at Moody Performance Hall, located at 2520 Flora St.