Don't talk about mom: NFL players angry over Trump's insult
ARNIE STAPLETON | 10/8/2017, 9:59 p.m.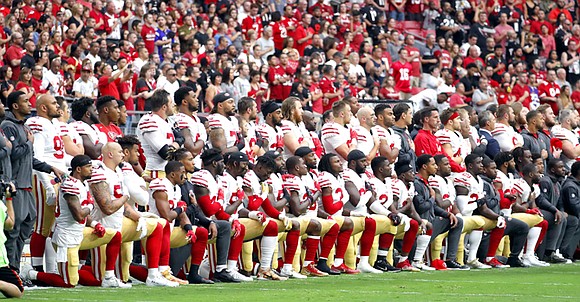 (AP) – President Donald Trump struck a nerve with NFL players when he implored team owners to "get that son of a b---- off the field" for protesting during the national anthem.
The line drew loud applause at the president's political rally in Huntsville, Alabama, but the words cut deep into America's most popular sports league, where the majority of players are Black and many grew up in tough neighborhoods, raised by strong women.
"I'm a son of a queen," an emotional Falcons defensive lineman Grady Jarrett said.
"There are no SOBs in this league," Lions coach Jim Caldwell said Sunday, when at least 200 NFL players either knelt, sat, stretched or prayed during The Star-Spangled Banner to protest Trump's remarks. Three teams didn't even take the field until the national anthem was over.
The protest campaign that started last year with former San Francisco 49ers quarterback Colin Kaepernick was down to just six players the prior week. But Trump's weekend attack on athletes sparked angry reactions from around the sports world and drew defiance from most of the NFL.
He suggested the NFL was going soft for cracking down on big hits. He uninvited the NBA champions Golden State Warriors to the White House after Stephen Curry and other players indicated they weren't sure they would accept the invitation.
Players, owners and commissioners past and present chastised the president for his divisive remarks, but the angriest responses came from players upset that he'd insulted their mothers.
"Once again, this is a tragedy in this country that we have to sit here and still have these discussions," Browns rookie quarterback DeShone Kizer said following a 31-28 loss to the Indianapolis Colts. "I know for a fact that I'm no son of a b----, and I plan on continuing forward and doing whatever I can from my position to promote the equality that's needed in this country."
After calling for NFL players who protest to be fired, Trump tweeted Sunday that the league should make it mandatory to stand for the national anthem and that fans should shun anyone who doesn't.
"It just amazes me with everything else going on in this world, especially involving the U.S., that's what you're concerned about, my man? You're the leader of the free world and this is what you're talking about?" said Dolphins safety Michael Thomas . "So, as a man, as a father, as an African American man, as somebody in the NFL and one of those 'sons of b----,' yeah, I took it personally."
The issue reverberated across the Atlantic, where about two dozen players took a knee during the playing of the U.S. anthem at an NFL game between the Ravens and Jaguars in London.
"We stand with our brothers," Ravens linebacker Terrell Suggs said. "They have the right, and we knelt with them today. To protest, non-violent protest, is as American as it gets, so we knelt with them today to let them know that we're a unified front. There ain't no dividing us. I guess we're all son-of-a-b----."