Don't talk about mom: NFL players angry over Trump's insult
ARNIE STAPLETON | 10/8/2017, 9:59 p.m.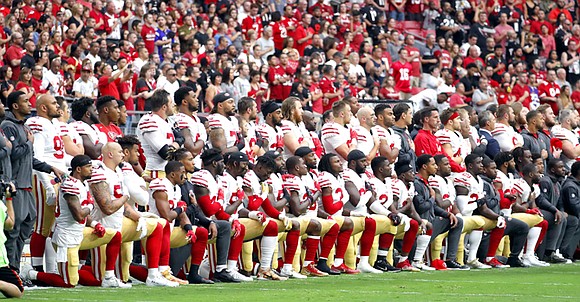 Buccaneers wide receivers Mike Evans and DeSean Jackson, who knelt at the Bucs-Vikings game, said Trump's remarks were especially disturbing when juxtaposed to his recent comments equating white supremacists marching in Charlottesville, Virginia, with counter-protesters.
"Why is he singling out athletes?" Evans asked. "I really don't really see him tweeting about all the other things going on, the neo-Nazis, the situation in Charlottesville. I don't really see him talking about that much. But he has the time and the nerve to call out the Golden State Warriors, Stephen Curry, all of us in the NFL that took a knee out of protesting. He has the time to do that? It's not right.
"And he called us SOBs, so that was very disrespectful."
Jackson said, "It's just blatant disrespect. I look at it as my mom's the queen. [We're] not sons of any 'B's."
Bills linebacker Lorenzo Alexander said he'll go back to standing for the anthem next week but was eager to join in the protests Sunday, noting that he supports the military, considers himself a patriot and loves his country.
He said he just wanted to show solidarity with his colleagues "especially in the backdrop of our president making the comments about our players, about their mothers. And then you put that in conjunction with how he tried to gray-area Nazism and KKK members as being fine people, I had to take a knee."
Linebacker Brandon Marshall, who hands out winter coats in Denver alongside his mother as part of his charity work, said the Broncos gathered Saturday night to talk about their reaction.
"We talked about the fact that while he called the (White supremacists in) Charlottesville very fine people, but we are sons of b----," said Marshall, who received the 2017 Courage Award from the Harvard Graduate School of Education's Alumni of Color for his stance against social injustice.
Marshall was a college teammate of Kaepernick, who remains unsigned. Many supporters believe teams are avoiding Kaepernick because of his protests.
On Sunday, some Dolphins players wore shirts supporting Kaepernick and even league owners and officials stood with players. Almost universally, owners and coaches criticized Trump's comments.
"For me to single out any particular group of players and call them SOBs, to me, that is insulting and disgraceful," Former NFL Commissioner Paul Tagliabue said. "So I think the players deserve credit for what they do. And when it comes to speech they are entitled to speak. And we are entitled to listen. We are entitled to agree or disagree. But we're not entitled to shut anybody's speech down."
AP Writers Rob Maaddi, Teresa M. Walker, Dave Campbell, John Wawrow, Michael Marot and Berne Wilson contributed to this report.