Jim Crow and the Nuremberg Trials
MIKE McGEE | 10/16/2017, 10:09 a.m.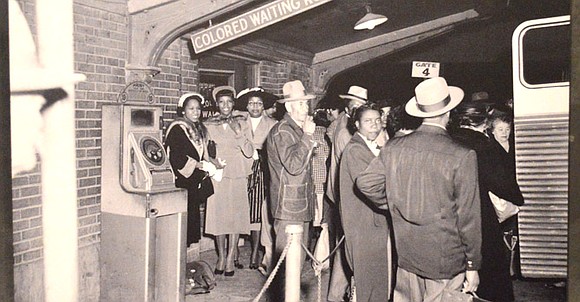 The Dallas Examiner
As America pursued justice against the Nazis after their WWII surrender, the nation remained caught in its own tangled moral web, proposed Dr. Graham Cox of the University of North Texas History Department during his presentation, Jim Crow and the Nuremberg Trials.
During the Sept. 28 program at The Dallas Holocaust Museum, the educator pointed out that while the Nazi regime collapsed and faced charges of crimes against humanity throughout 1945 and 1946, those seeds were sewn years before with a social hierarchy based on race, religion and sexuality – not unlike the system in place in the U.S. at the same time.
The lecture was part of the museum's exhibit, Fighting for the Right to Fight: African American Experiences in WWII, on display until Jan. 26, 2018.
Cox walked the audience through how U.S. policymakers were able to seek justice for Holocaust victims in Germany without additionally addressing racial inequality at home. It was an era when America was still engaged in limiting where Jewish families could live; the last Japanese American internment camp remained open until March 1946 and, most notably, "separate-but-equal" laws were still in full swing against Black citizens.
The contradiction troubled leaders in Washington, D.C., as early as October 1942, when President Theodore Roosevelt announced that Germany would be held accountable for war crimes, a failed tactic intended to slow their military hostility.
"We almost never got to this trial right here," Cox said as he gestured to a black and white photo of infamous Nazi top brass in court upon a large display screen. "And there are reasons why it didn't almost happen. One of the biggest reasons, one of the road blocks that was overcome … (was) Jim Crow segregation in the United States. It became a roadblock to seeking justice for the Holocaust throughout the entire year of debate about how we were going to do it."
At issue was the fact that leaders of wartime Germany needed to be held accountable for the severe treatment of their own citizens, but there was no clear war crime code at the time. As a result, the U.S. had to craft those laws.
Herbert Pell, former U. S. Representative and ambassador to Hungary, was appointed by FDR in the summer of 1943 to the United Nations War Crimes Commission.
"As much as anyone on planet Earth, he was responsible for making this trial happen, and the vast majority of human beings … aren't aware of how important he was," Cox said about the appointee.
Pell not only had to encourage other nations to approve the war crimes laws once they were written, but he also had to fight against his own government to make sure the trials even occurred. As an example, in January 1944, his assistant in London, Lawrence Preuss, told him he would not be allowed to gather evidence to be used during the trials because, in Cox's words, "The crime is too vast; it would be too hard," he affirmed. "I'm not making it up. Of course, that's one of the reason's you have to do it; it's so vast."