Shemar Moore stars in remake of S.W.A.T.
MIKE McGEE | 10/16/2017, 10:11 a.m.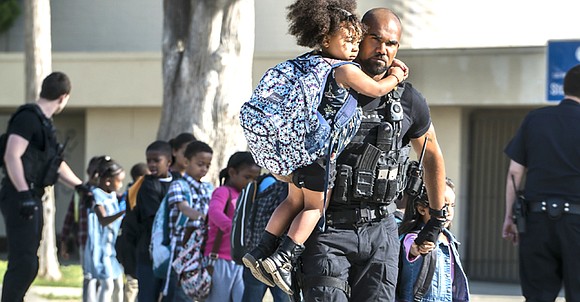 The Dallas Examiner
A dynamic reboot of the action-drama show S.W.A.T. will air next month as Criminal Minds star Shemar Moore combines his star power with executive producer Aaron Rahsaan Thomas' creative talent.
The CBS show, which has its roots in the popular 1970s series and a 2003 big-budget film, is being marketed as "a realistic and sensitive look at the brave men and women who form the administrative and tactical elements of the L.A.P.D. Metro S.W.A.T. Team."
During a media conference to promote the series, both Moore and Thomas announced the show will be mostly about fun and excitement, but certainly will delve into the real-life ethics that involve police and civilian interactions, all while being presented with an ethnically diverse cast.
"We all know what's going on," the producer said. "We all know what's been going on since forever, and certainly where I was growing up. I grew up in Kansas City, Kansas. I grew up in a blue-collar neighborhood. I grew up in a neighborhood that had a really complicated view towards police officers.
"The story I tell is, there was a 12-year-old kid that was to the right of our house who was literally shot and killed by police officers. On the other hand, a couple of doors down the opposite way was a guy who was a police officer who lived in our neighborhood, so we literally grew up with a love/hate relationship towards the police. So ever since I was a kid I always had an idea that it would be really interesting to have a character who understood both sides of the Black Lives Matter/Blue Lives Matter debate. It's just a matter of putting the pieces together to really bring that story in a best way to an audience."
Thomas used the original show as an example to describe the premise as taking a property an audience thinks it knows and "turning it on its head by using modern, topical issues."
Especially significant to both producer and star is that CBS will air the show. The network has long been considered by many as having the lowest number of racially diverse major performers.
"CBS has been very good to me my whole career," offered Moore, who plays Los Angeles S.W.A.T. commander Lieutenant Dan "Hondo" Harrelson, as he praised the network for his time on Criminal Minds and The Young and The Restless.
"I built a fan base, I built my resume, I built my chops on that network and that network has surrounded me with people that said, 'Hey, we don't want to let you go because you've been so good to us. We've got an opportunity for you,'" he said.
After meeting the producers and further learning about the show's method and intent in the storytelling, Moore and the production team came to an agreement that would make the actor the first ever Black leading-character action star for the network.
"We are going to raise the bar. We want to change the landscape of what you see on network television. We want to create diversity; we want to create conversation – not just diversity because a Black man is the lead," Moore expressed. "Not just diversity because you see different colors on the screen, but diversity of the kind of stories that we all – Black, White, green and yellow – (are) all capable of telling together."