Shemar Moore stars in remake of S.W.A.T.
MIKE McGEE | 10/16/2017, 10:11 a.m.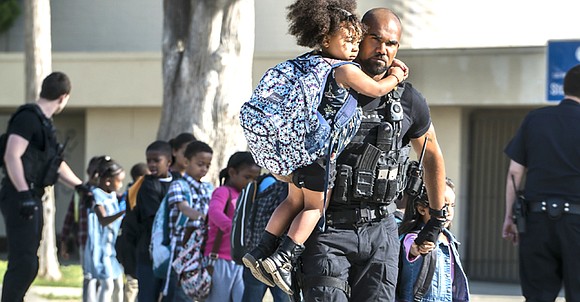 The performer also shared some of his personal life when it came to how important playing Hondo is to him.
"I'm from East Oakland," he confessed. "Some of my family's dead, some of my family's in jail, some of my family made it out of the 'hood, some of my family – I still go back to where I come from."
Moore continued to express that Hondo was raised in the same situation, saw injustice in the form of law enforcement within his environment and got out of the 'hood as well, exactly what the actor experienced. He remarked that Hondo, like many activists in reality, wanted to return to the neighborhood to fix the problems and change perceptions – perceptions that not only the police had about Oakland residents, but also the perceptions the residents had about law enforcement.
"So there are similarities that I feel that I have that I feel I can bring to the table in my life, my life experience as Shemar, that I related to where Hondo's coming from. And then, it's just a really good time," he said of the main point of the show.
Part of preparing for his role meant training with members of the L.A. S.W.A.T. team; running, shooting, rappelling and so on, which the actor said he loved. Thomas commented further on the importance of such immersive preparation for the show.
"We also have a premise that allows us to go into various different neighborhoods throughout the city of Los Angeles, and we see the city as a character unto itself," the producer said as he described this method of storytelling as a way of presenting the city as "a microcosm of the entire world."
Moore considered his character a bit more and remarked that, regrettably, actors such as Morris Chestnut, Dennis Haysbert and LL Cool J were no longer playing lead roles on series television, saying he hopes that his new role will be a rebirth for larger, more frequent casting of minorities.
"This is a huge opportunity for me. This is a huge responsibility for me," Moore affirmed. "I want to represent myself and I want to represent all of you in the right way. I want to continue to open the door so that there're more faces of color in the forefront. There're more stories of color and diversity in the forefront.
"I'm being very serious right now, but when you see S.W.A.T., our first priority is to thrill the you-know-what out of you. It's a good time. When you watch S.W.A.T. you're going to have a good time, but it's going to be laced with something that you can identify with, and it's going to open your mind."
S.W.A.T. is set to premiere Nov. 2 at 9 p.m. Central Time.