Boseman, Hudlin team up to portray a young Thurgood Marshall
JESSE J. HOLLAND | 10/23/2017, 7:51 a.m. | Updated on 10/24/2017, 4:58 p.m.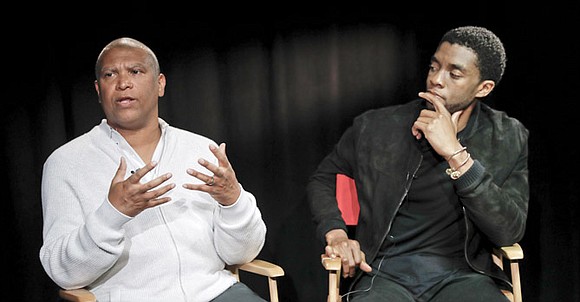 "Northern racism often gets a pass, but beneath that veneer of gentility, institutional racism was just as vociferous, and it's a lot more recognizable to challenges we face today," he said.
That isn't to excuse Southern racism, said Boseman, a South Carolina native who said he could channel some of his experiences growing up to use to portray Marshall's frustration at the racism he faced during the case.
The experience of "riding to school and seeing Confederate flags flying on trucks in front of you and behind you ... or being run off the road by a truck with a Confederate flag on it or being stopped by the police and you know that three to six cars are going to show up for no reason," Boseman said. "Why wouldn't I use those experiences, if you've had them, you know the anxiety, the adrenaline, the anger, the sadness, all those different things that can come from a moment like that."
Telling the story of a young Marshall allows them to get away from stereotypical stories about White protagonists coming in to save African Americans in society, Hudlin said.
"I'm grateful for this opportunity to tell these stories and to tell the part that people hear the least, which is Black people standing up and fighting back," Hudlin said. "I don't like when we're reduced to victims. ... We have a history of resistance. Thurgood Marshall's preferred weapon is his law books but you can catch those hands too."