Surviving Harvey - Houston convention center gives refuge to Harvey's survivors
NOMAAN MERCHANT | 9/2/2017, 4:56 a.m.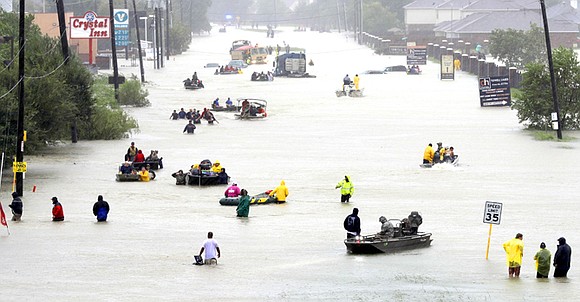 HOUSTON (AP) – Patricia Cain entered the George R. Brown Convention Center barefoot and carrying two oxygen tanks. The first was empty. The second was given to her by the Houston Fire Department after the U.S. Coast Guard rescued her from her flooded home.
She suffers from congestive heart failure, among other illnesses. Her son, William, and 9-year-old grandson were waiting for her inside. Both were barefoot as well.
"I live in a lake where there was once dry land," William Cain said.
The Cains were among hundreds of people who arrived Sunday by boat, by bus, and by foot to Houston's showcase convention center downtown, transformed by volunteers with few hours' notice into a shelter as Harvey ravaged Houston.
Weary and carrying little more than what was in their pockets, they prepared for what could be several days inside the convention center. Many of the roads and major highways nearby were impassable. The American Red Cross was expanding the shelter by the hour as more people arrived, including dozens of volunteers and local residents who saw reports on the news or social media and brought bags of donations.
Inside a cavernous hall humming with the sound of hundreds of conversations, volunteers served food, handed out towels and set up tables with donated clothes for a long line of evacuees. Some people huddled around a projection screen showing television coverage of the storm. Others collected bowls of pasta with parmesan cheese and cups of black coffee.
A long line of people carrying blankets and pillows waited to enter a separate space in the convention center serving as the dormitory. Volunteers had set out around 1,300 cots and were quickly assembling more in anticipation of other evacuees arriving through the night. They have enough space to house 5,000 people. Police officers and medics stood ready, though there were no reports of arrests or major incidents Sunday.
"We feel that we have the resources and the knowledge not to have this be anything but safe for families, children and others who need support and safety," said U.S. Rep. Sheila Jackson Lee, D-Houston, who visited the shelter Sunday.
However, the shelter had reached half its capacity with 2,600 people by midmorning Monday, according to Ken Sandy, a shelter manager for the American Red Cross. It had also run out of cots and was waiting for more to arrive, Sandy said.
The American Red Cross mobilized at the convention center on a few hours' notice, Sandy said. The city of Houston had publicly announced just two shelters Saturday night, as the worst of the rain that pelted Houston and surrounding Harris County began. One of the shelters had to close because it was too close to high water.
Houston Mayor Sylvester Turner then announced Sunday morning that the convention center would become a shelter. A few hours later, the first group of evacuees arrived.
Most of the people at the shelter were African American or Latino, and many of their stories reflected how Harvey affected low-income neighborhoods and the homeless.