Surviving Harvey - Houston convention center gives refuge to Harvey's survivors
NOMAAN MERCHANT | 9/2/2017, 4:56 a.m.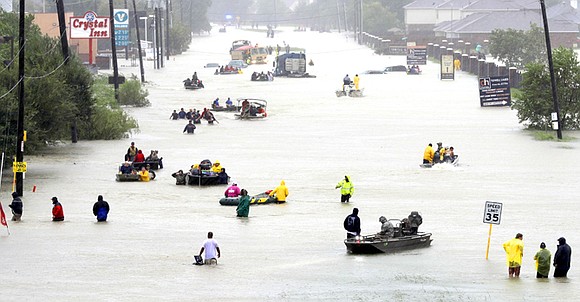 Many were from the Clayton Homes, a public housing complex bounded on one side by an interstate highway and another by Buffalo Bayou, which flooded heavily along with all of Houston's major waterways. Police used boats to evacuate many of the complex's residents and bring them to the convention center in trucks.
D'Ona Spears and Brandon Polson walked with their five children, bags full of belongings, and their 7-year-old Chihuahua, Missy. They decided to leave once the water in the first story of their home reached their knees. Polson said the management at the complex wouldn't open a community building on site that had stayed dry as the apartments around it were flooding.
"As soon as you step out, a lot of cars are in the water," Spears said.
Alex Cantu Jr. rode out the storm underneath a bus shelter. Cantu, 50, said Sunday that he was waiting for a bus to the Salvation Army shelter where he lives, but buses were canceled. The flooding made it too dangerous for his brother to pick him up. So he and a few other people slept in the bus shelter.
"I was soaked cold," he said.
On Sunday morning, his brother told him he could go to the convention center, where he hoped to stay through the duration of the storm.
"I don't know how long they're going to let people stay," he said, a white towel draped around his shoulders. "My brother said it would be over Wednesday."
Several people told The Associated Press that in hindsight, they wished they had left Houston beforehand. Before Harvey hit, local officials pushed back against Texas Gov. Greg Abbott's suggestion that people in Houston should leave and did not order a voluntary or mandatory evacuation.
Houston Mayor Sylvester Turner stood by that decision Sunday, saying an evacuation would have put many people on roads that eventually flooded and endangered more lives than having residents stay in their homes.
But Desiree Mallard disagreed. As she carried her nearly 2-year-old son in her arms and waited to enter the convention hall, Mallard said she saw on the news not to leave, and so she didn't.
She escaped her apartment by floating her son on an air mattress through floodwaters.
"I could have [left], if I would have known it was going to be this bad, but I didn't know," Mallard said. "And then when it got bad, they said, 'It's too late to evacuate."'
Walking into the shelter holding his son's hand, William Cain gave a small laugh when a reporter asked if he wished he had evacuated.
"That's a no-brainer, brother," Cain said.