Locked up for life: Part 4 of a national investigation
High court juvenile lifer ban spurs wider review of cases
BALTIMORE (AP) | 9/4/2017, 8:47 a.m.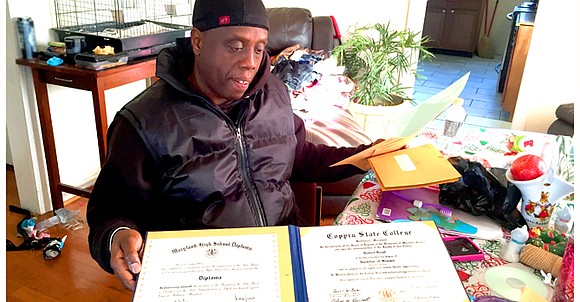 "I am not that same 17-year-old kid. I will never commit another crime again," Patterson wrote to The Associated Press. "I caused a terrible tragedy for which I will always be sorry and shameful. What more can I say to the family? I have been here for almost a half of a century, and the parole board is still saying no."
His case isn't unique. In Florida, a state Supreme Court ruling last year said that juvenile offenders who were eligible for parole must be resentenced to ensure they have a real opportunity for release. The ruling came in the case of Angelo Atwell, who got life with the possibility of parole after 25 years for a murder he committed in 1990 at age 16. When it came time for Atwell to argue for his freedom, the state calculated his presumptive release date as 2130 – 140 years after sentencing.
"While technically Atwell is parole eligible, it is a virtual certainty that Atwell will spend the rest of his life in prison," the justices wrote, and his sentence, "virtually indistinguishable from a sentence of life without parole, is therefore unconstitutional."
Atwell awaits a new sentencing hearing.
Iowa's highest court in 2013 found that the governor didn't comply with the U.S. Supreme Court when he commuted the life-without-parole sentences of 38 juveniles to life with the possibility of parole after 60 years, because they wouldn't be eligible until they surpass their life expectancy.
"Oftentimes, it is important that the spirit of the law not be lost in the application," the court wrote.
A dysfunctional design
More legal challenges have been filed in North Carolina, Illinois and Missouri, among other states.
Maryland, Oklahoma and California are the only three states that require the governor to sign off on parole recommendations for lifers. Last year, the American Civil Liberties Union sued Maryland, arguing that a life-with-parole sentence doesn't afford prisoners a meaningful shot at release because governors for two decades haven't approved any petitions. Even Parris Glendening, the former Maryland governor who set the standard when he declared in 1995, that "life means life," said the system he designed is dysfunctional.
"What happens with lifers now, I had some responsibility. And I say that not with pride, but with regret," Glendening told the AP. "What we're finding now is people who are juveniles ... they are now aging in prison, are probably a threat to no one at this stage. It's a question of humane treatment: Is it humane or cruel and unusual to have someone sitting in jail at 50, 60, 70 for an offense committed half a century ago?"
Maryland's parole commission in October began reviewing all 271 lifers who committed crimes as juveniles, according to commission chairman David Blumberg. As of May, the commission had reviewed 76 cases: 45 have been scheduled for additional hearings, 20 were referred for psychological risk assessments, and nine were refused parole. Two asked for postponements. None has been released.
Gov. Larry Hogan said he and his team take the process seriously.