Black, White, rich, poor: Harvey didn't discriminate
JULIET LINDERMAN | 9/11/2017, 9:36 a.m.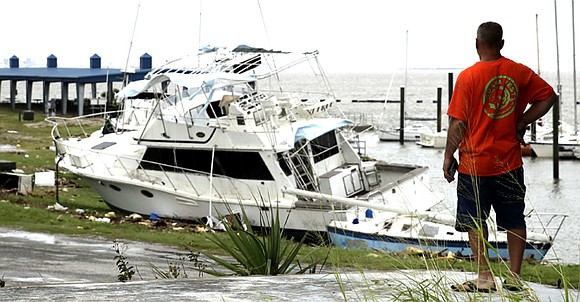 Rose returned home on Thursday. Her parlor, where she puzzled out problems she had with her students, was ravaged; her beloved antique lamps with fringed shades and ceramic statues of women in flowing robes were ruined, as were her chairs, couches, clothes, a brand new big-screen television.
Her eyes were glassy when she spotted the topper to her wedding cake in the corner, soaked through.
"Part of me wants to cry. The other part of me knows I need to pull myself up," she said.
Down the block, welder Ivy Anderson also came home to find his house and belongings destroyed. As the storm raged, he'd carried his mother on his back through the treacherous flood, and watched his home fill up with water he knew would cause horrible damage. The house had flooded during Tropical Storm Allison in 2001, but he had flood insurance back then. Not this time.
"I'm counting on FEMA," he said. "If FEMA can't help, I don't know if I'll be able to rebuild. It hurts. This has been my home for 18 years. It hurts."
Twenty-two miles away, in the Meyerland neighborhood of quiet, leafy streets, Barron Lozano picked through her own wreckage. Flood insurance is required to get a mortgage in Meyerland, she said, and it's been an invaluable safety net.
Lozano and her husband, an architect, left before the storm hit – she didn't want to take the chance of getting stuck. Last year, her home flooded on Tax Day – 10 inches. The year before, it flooded on Memorial Day – 20 inches. They'd been back in the house after their most recent remodel for just six weeks before Harvey.
"We thought if we got 3 feet, we'd be OK," she said. They weren't OK. They received more than 4 feet of water.
Outside her home, its insides were piled high: new chairs, a new couch, a top-of-the-line refrigerator, just purchased.
"We just don't know what we're going to do," she said, pausing to take stock. "The scale of this is absolutely unbelievable: It's hard for us, but it's harder to look around and see that everybody else has flooded, too. Insurance is huge – we wouldn't be able to rebuild it if we didn't – but we don't know if we want to go through this again."
In Edgebrook, near South Houston, Spanish tunes leaked out of a sound system on Lakewood Drive, as families slowly made their way home. The sun baked the sidewalk; bit by bit, it evaporated water still pooling in the gutter.
Patricia Hahn, an administrator for a dialysis company, sat in the back of a pickup truck in her driveway. Beside her were plastic bins and boxes, filled with whatever she could salvage from inside – books and DVDs, photographs, odds and ends in plastic bags.
The pile was modest, compared to her refuse. Her wardrobe. A pair of brand new La-Z-Boy recliners she'd ordered back in 2016, delivered just two months before the storm; she'd even kept them wrapped in plastic. A green couch that had belonged to her husband, Curtiss. He died three years ago on Nov. 7, the couple's shared birthday. She hung her head and quietly cried.
A native of Houston, Hahn said she's only ever received a few inches of water in the garage, even in the fiercest storms: "Never in my life, never ever in my life, has this house had this much water."
Hahn rode out the storm on the second floor, while water rushed into the first. As neighbor after neighbor waded through chest-deep water, Hahn kept a watchful eye over her neighborhood. But when the floodwaters receded, she realized that she had almost nothing left. Even the boxes of her late husband's belongings that she'd tucked away as mementoes were destroyed.
"This has been a hard reset for me," she said through tears. "It's always been hard for me to go through his stuff. Now it's gone."
"I, more or less, have lost everything," she said. "But I have to face up to my challenges."
She doesn't have flood insurance, but is determined to recover. Houston will too, she said.
"This storm affected the poor, the rich, and those in the middle," she said, "but our Texans, our community, we're going to do whatever it takes."