Kaepernick's protest, a patriotic tradition
JESSE L. JACKSON SR. | 9/11/2017, 9:31 a.m.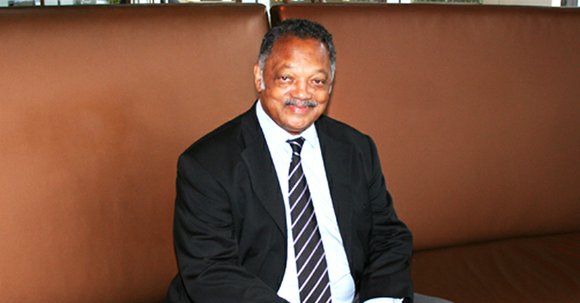 Rainbow PUSH Organization
Colin Kaepernick, the former quarterback of the San Francisco 49ers, is being blackballed – itself a revealing phrase – from the National Football League with the collusion of the all-White owners. He is ostracized because a year ago he exercised his First Amendment right to free speech by taking a knee during the playing of the national anthem.
Kaepernick isn't hooked on drugs. He isn't a felon. He hasn't brutalized women. He is treated as a pariah because he protested the continued oppression "of Black people and people of color." He wanted, he said, to make people "realize what's going on in this country. … There are a lot of things going on that are unjust, people aren't being held accountable for, and that's something that needs to change." Born in Milwaukee, Wisconsin, one of the most racially segregated cities in America, Kaepernick is particularly concerned about police brutality and the shocking police shootings of unarmed African Americans.
Surely his cause is just. Tens of thousands have joined peaceful demonstrations against police brutality in cities across the country. That movement, led by Black Lives Matter, put the issue of our institutionalized criminal injustice system back on the national agenda. Under President Barack Obama, the Justice Department reached agreements with dozens of police departments to change police training and tactics. There was bipartisan agreement to change racially discriminatory sentencing practices.
Kaepernick's protest was nonviolent and dignified. The San Francisco 49ers, the NFL and President Obama all agreed that it was a protected act of free speech.
Yet the owners of the NFL and their front offices have ostracized Kaepernick. No follower of the sport would question his skill level. There are 64 quarterbacks on NFL teams, many of whom can't hold a candle to Kaepernick. He's ranked as the 17th best quarterback in the league. When he came back from injury last year, he started the last 11 games, racking up a 90.7 QB rating, with 16 touchdowns running and passing and only four interceptions, while playing on a team sorely lacking in talent. That rating was better than stars like Cam Newton, Philip Rivers and Eli Manning, among others.
Sports writers report that Kaepernick is loathed by the White owners and front offices, some of whom denounce him as unpatriotic. But what Kaepernick did – a dignified, nonviolent protest to raise awareness of a true and just cause – is the height of patriotism. It is the essence of democratic citizenship.
Others claim Kaepernick is excluded because he would be divisive, and teams have to be run with military discipline. But our military has learned to succeed with people of all races, genders, sexual preferences and political perspectives. Almost 70 percent of the players on NFL teams are African American. For most of them, Kaepernick's protests are not as divisive as Tom Brady's open support of Donald Trump. Last year, Kaepernick's teammates voted to give him the annual award for "inspirational and courageous play."
No, Kaepernick is being treated as a pariah by the private club of White owners who are terrified of controversy. They clean up big time from public subsidies – tax breaks, public contributions to stadiums, television contracts – and they tremble at anything that might disrupt the gravy train. They want to make an example of Kaepernick as a way of teaching the rest of the players a lesson, hoping to keep plantation-like control of their players.