Educational tool helps bridge communication in local school districts
DIANE XAVIER | 9/18/2017, 11:38 a.m.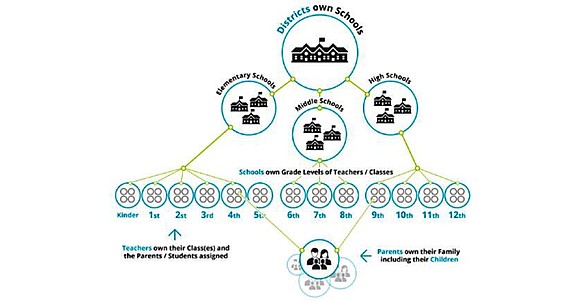 The Dallas Examiner
Creating the next generation of global leaders is what DeSoto Independent School District's coordinator of Parent Engagement and Professional Learning, Dr. Amber Reed, said is the district's vision.
Reed, along with other superintendents in North Texas, is using the latest technologies and applications to beat other social media platforms to grab students, teachers and parents' attention.
The LivingTree App, introduced in 2012, is a mobile and online platform specifically for the K-12 educational system that connects educators with parents in order to improve student achievement.
"The mission of DeSoto ISD to prepare students to be global leaders," Reed said. "By using the LivingTree App, parents, students, faculty and staff are stepping away from the traditional ways we used to communicate by sending letters home and phone calls. Our students use technology all of the time and we are catering to how they learn."
Joni Carswell, LivingTree's CEO, said a parent who wanted to help improve communication between school leaders, and parents started the app.
"So far, we have gotten positive feedback from parents because it is good on education and you are not going to find behavior like posting selfies or time-wasting things like [on] public social media," Carswell said.
LivingTree is a safe and secure network that allows educators to communicate to students and their parents in over 100 languages all in one single, secured application, according to Carswell.
Parents can get involved by sharing information on school activities and PTA announcements and can send and receive private and direct messages regarding homework assignments with teachers.
DeSoto ISD started testing the app in spring 2017.
"Teachers are excited to have everything they need in one App," Reed said. "Previously, they were using several modes to communicate with parents and now they only need one App. Parents enjoy it because of its versatility. It translates to over 100 languages so that is user friendly for our parents who do not speak English fluently. It allows parents to look at all of their children's information in one place, even if they have children attending different schools."
Dean Drako, chairman of LivingTree and CEO of Eagle Eye Networks, is passionate about the program.
"It is important because getting your children to talk about what they did at school and share a little bit about their day can sometimes be challenging but it is really not," Drako said. "If you talk about it a little bit, then you can have a conversation about the lessons. In the United States, it's a very diverse place and sometimes teachers, administrators have a challenge to communicate with parents who have a different native language and English is just a native language for the majority of our schools. LivingTree gets parents more involved since there are over 100 languages."
He continued, saying the program has a translation component that helps parents, caretakers and children get and receive messages from educators instantly and translated into the language of their choice.
"They can do that really quickly with things like the mobile phone and the messages go only to the parents and is completely private to those parents and it is translated into the language that they use," he said. "Studies have shown if parents are involved in the education system, you get better results and the children are able to do a lot better in every way possible. If you can engage the parent, then students do better and you have better long-term outcomes. You have to get these students attention just like other social media and LivingTree is the only platform that allows you to engage parents in a meaningful manner."