Texans remain resilient in wake of Harvey
EDDIE BERNICE JOHNSON | 9/18/2017, 8:22 a.m.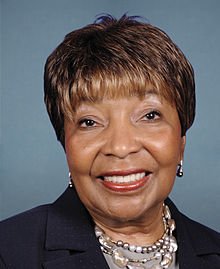 U.S. House of Representatives
More than a week after Hurricane Harvey made landfall in Texas, the devastation already appears to have surpassed the damage caused by both Hurricane Katrina and Hurricane Sandy in other parts of the country. Countless individuals, homes and businesses in Texas have been left devastated in its wake, and conservative estimates suggest that the damage caused by Hurricane Harvey could amount to nearly $180 billion. Hurricane Harvey is the most powerful hurricane to hit Texas in more than 50 years and resulted in dozens of fatalities, billions in lost property and a million displaced people left in its wake. Yet, in the midst of tragedy, Texans remain victorious because of the courage and selfless acts shown by the countless volunteers and their support.
Despite these harrowing facts, I am always encouraged to see how well federal, state and local government agencies, individuals, charitable organizations and others are able to come together from all across the United States during these times of need. The U.S. Department of Homeland Security, the U.S. Coast Guard, the American Red Cross, the Texas Department of Transportation and dozens of other organizations have all played a major role in the response, recovery and relief efforts that have taken place over these past few weeks. Without this level of coordination and compassion from our fellow Americans, there is no saying how many more casualties there would have been or how much more we would be suffering from the devastation. It is truly an incredible display of humanity.
However, our job is far from over – even with the storm's passing. Many survivors will remain unable to return to their homes for weeks, while others will be left cleaning up debris and other damage for months ahead. That is why our continued support is pivotal and the spread of reliable information are essential to this effort.
Many organizations within Texas, such as the Texas Department of Transportation, the Federal Emergency Management Agency, local news outlets, other government agencies and local churches, will be providing invaluable resources and relief over the coming weeks. I am encouraging my constituents to share disaster relief resources with their loved ones who might have been impacted by this natural disaster. For example, FEMA is strongly encouraging survivors to register online at http://www.disasterassistance.gov as the most expedient way to receive individual assistance and information.
Keeping in mind that there are many survivors who are unable to return to their homes at this time due to inaccessibility or uninhabitability, short-term housing assistance and other immediate funding can be made available through FEMA once the registration process has been completed. When survivors register, they will also receive information on other resources in their area, including available services from other federal agencies.
FEMA Disaster Recovery Centers are also operating in Houston, Columbus, La Grange and Edna, Texas, in order to provide additional information and resources for survivors. DRCs will continue to open in other locations as deemed necessary by the state of Texas. Survivors can visit the DRC Locator to identify the location closest to you.