Fighting for the Right to Fight
MIKE McGEE | 9/24/2017, 2:59 p.m.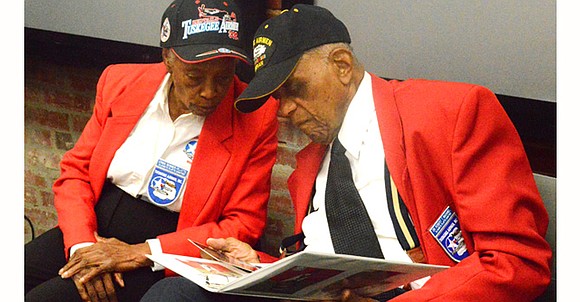 The Dallas Examiner
"Despite the segregation and injustice that African Americans faced on a daily basis in our country, over 1 million African Americans enlisted in the armed forces to serve their country and to fight to preserve the very freedoms they were denied," Mary Pat Higgins, president and CEO of the Dallas Holocaust Museum, voiced Sept. 7 as she introduced the debut program for the exhibition Fighting for the Right to Fight: African American Experiences in WWII.
Former Tuskegee Airmen Flight Officer Robert T. McDaniel and Erma Bonner-Platte, widow of Tuskegee Airmen instructor Capt. Claude R. Platte, joined Higgins for the debut.
The exhibition, on display in the museum until Jan. 26, 2018, showcases Black accomplishments and struggles during World War II, abroad and at home.
The name of the exhibition is more than poetic rhetoric, according to the evening's moderator, UNT history professor J. Todd Moye.
"African Americans had to fight for the right to serve their country in WWII, in significant numbers and significant roles. The plan coming out of WWI, based on supposedly scientific studies … they purported to show that African Americans that served in WWI did not have leadership qualities, did not have equal intelligence to Whites, could not be expected to serve as officers, certainly could not lead White troops, etc.," he stated.
With that concept as part of the cultural backdrop to the exhibition, the night's discussion did not involve stories of warfare but rather battles the Airmen had to deal with that involved color.
Blacks who wanted to serve in WWII had to turn the military issue into a civil rights issue, then into a political issue, so that they could then fight through the political process, according to Moye.
From 1937 to 1941, the NAACP demanded at their annual conventions that the Army Air Corp be opened up to Black men willing to enlist. Via political maneuvering before the 1940 election, the NAACP was eventually able to get Franklin Roosevelt to comply with their wishes.
McDaniel opened up about his road to becoming what was referred to as a "Red-Tail Angel." After he graduated from I.M. Terrell High School in 1940, he attended Prairie View A&M.
"Of course, I was drafted out of Prairie View College into the armed services, I entered the services in 1943 and I was accepted in the Air Corp.," he explained.
"And of course, they didn't really want Black folk flying planes because they felt, first of all, that they weren't intelligent enough, and they didn't have the dexterity to operate the machines and everything, as though you were different physically, simply because you were the wrong color."
The former officer, much like his peers, saw it as nothing but bigoted nonsense. Still, rather than be trained as a bombardier at Midland Army Air Field as was originally intended, he was sent to Tuskegee, Alabama, to be trained as a flyer to escort the bomber planes with their White crews in their raids over Europe.