HBCUs head to meet with White House amid strained ties
JESSE J. HOLLAND | 9/24/2017, 2:57 p.m.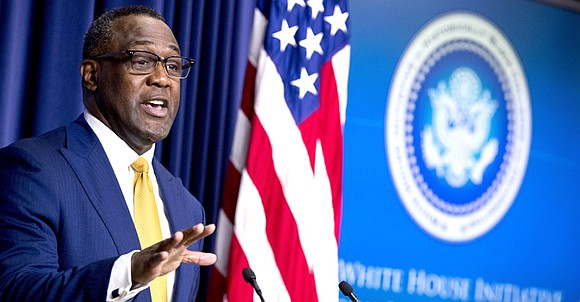 WASHINGTON (AP) – President Donald Trump on Monday named a lawyer and former NFL player as executive director of the White House Initiative on Historically Black Colleges and Universities, as the administration faces criticism from those institutions of promises unkept.
Jonathan Holifield, who also writes and consults on the topics of innovation and inclusiveness, told leaders and students that HBCUs must contribute more to the American economy.
"There is no path to sustain new job creation, shared prosperity and enduring national competition without the current and increased contributions of Historically Black Colleges and Universities," Holifield told students at the Old Executive Office Building next to the White House.
His appointment answers one complaint from the leaders of HBCUs, who are making their second visit to the White House this year amid strains with the Trump administration over unfulfilled promises. Trump has said he would move the office of Historically Black Colleges and Universities from the Education Department to the White House. He promised support for the schools during his presidential campaign and Black History Month meetings, when college presidents posed for pictures with Trump in the White House.
But the annual gathering in the nation's capital for those schools has been reduced to a two-day summit, further aggravating college officials. And Trump was not in Washington to receive the visitors Monday. Instead, he was in New York for the U.N. General Assembly.
"Everyone's uptight in this day and age with our current president and with what's going on," said Ty Couey, president of the National HBCU Alumni Associations. "Things are out of control."
Advocates for the schools say there has been little to no action from the Trump administration. The institutions have not seen increases in their funding in Trump's proposed budget, and they had to beat back a White House push to call construction money for HBCUs unconstitutional. All that followed the backlash after school presidents posed with Trump for a photo in the Oval Office.
That led to calls from the colleges' major advocates to postpone the annual National Historically Black Colleges and Universities Week Conference.
"It has become painstakingly clear that these promises are not being kept," said Rep. Alma Adams, D-N.C., who leads the Congressional HBCU Caucus.
"In this current environment, and with zero progress made on any of their priorities, it would be highly unproductive to ask HBCU presidents to come back to Washington," she said.
The week is normally planned by the White House HBCU Initiative's executive director along with a presidential HBCU advisory board, said Johnny C. Taylor, president and CEO of the Thurgood Marshall College Fund, a nonprofit organization that has supported public HBCUs since 1987.
Responding to "feedback from key stakeholders," the Education Department sent an email Sept. 5 saying it was "postponing this year's National HBCU Week Conference" and replacing it with "more intimate conversations."
Omarosa Manigault Newman, a HBCU graduate and assistant to the president and director of communications for the White House Office of Public Liaison, said in a telephone interview last week that the conference was simply scaled back. She said the White House intended to announce an executive director for the initiative on Monday.