Protest over shooting of unarmed Black man overtakes freeway, game
SOPHIA BOLLAG and DON THOMPSON | 4/3/2018, 11:24 a.m.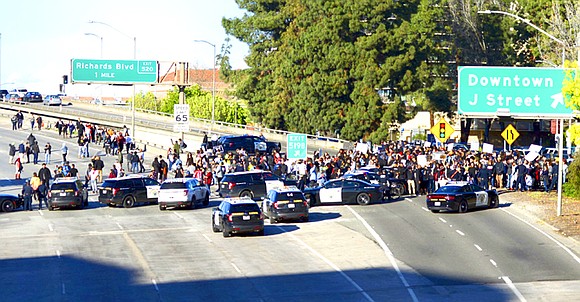 SACRAMENTO, Calif. (AP) – A protest over the fatal shooting of an unarmed Black man briefly shut down a major California interstate highway and disrupted the start of an NBA game March 22.
The game between the Sacramento Kings and Atlanta Hawks got underway about 20 minutes late as thousands of frustrated fans waited outside. Protesters shouting "Shut it down" formed a human chain blocking fans from entering Golden 1 Center while dozens of police initially attempted to clear entrances before fans were told to go home.
Kings officials moved the few hundred fans inside to courtside seats and offered them free nonalcoholic beverages before the game began in the largely empty arena. A half-hour after the delayed tipoff, officials announced no more fans would be admitted.
Black Lives Matter Sacramento organized the peaceful rally in honor of Stephon Clark, a 22-year-old who was shot 20 times on the night of March 18 in his grandparents' backyard, where he was staying.
Clark routinely helped care for his grandparents at their home in south Sacramento, his cousin, Sonia Lewis, told Capitol Public Radio.
NBA fan Doug Hillblon said he thought protesters went too far in blocking the entrances.
"Their rights don't supersede everyone else's," he told The Sacramento Bee as he waited with his wife and a family friend outside the arena.
But season ticket holder Barbara Mitchell, who is Black, told the newspaper she was "appalled by what happened to the young man. It was a travesty. So as much as I love basketball, it's OK. I'm not angry. I admire them for taking the time to protest an injustice."
Earlier, the several hundred protesters marched from Sacramento City Hall onto a nearby freeway, disrupting rush hour traffic and holding signs with messages like "Sac PD: Stop killing us!"
They were upset that Clark was shot in the backyard of his grandparents' home. Police say they feared he had a handgun when they confronted him after reports that he had been breaking windows in the South Sacramento neighborhood.
But police found only a cellphone.
"We are at a place of deep pain" because of recent violence directed at Black people in Sacramento and elsewhere, said the Rev. Les Simmons, a community leader. He said the city's first Black police chief, Daniel Hahn, is doing what he can but protested the actions of Hahn's officers.
Salena Manni, who identified herself as Clark's fiancée, said he was the father of her two sons, ages 1 and 3.
"He would never want to leave his kids," Manni said in an interview with ABC10 in California. "I just tell them daddy's always going to be with us, daddy's in our hearts, always and forever. He's always going to be with us. Don't forget that."
"He was a great dad. He loved both of them to death," recalled Clinton Primm who said he was friends with Clark for about six years and fears others are also at risk at being shot by police.
Sacramento resident Vanessa Cullars said she has lost two family members to police violence.