Protest over shooting of unarmed Black man overtakes freeway, game
SOPHIA BOLLAG and DON THOMPSON | 4/3/2018, 11:24 a.m.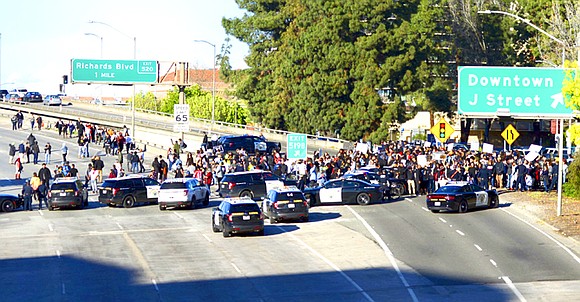 "I'm fed up with this," she said at the protest. "I feel like our lives don't matter to them."
Sacramento Mayor Darrell Steinberg earlier said he was horrified but won't second-guess the "split-second decisions" of the officers. He praised Hahn for quickly releasing videos of the shooting and said the department has improved its policies since the fatal shooting of a mentally ill Black man in 2016.
But independent experts said the footage from body cameras and an overhead helicopter raises more questions than it answers.
The officers appeared to believe they were in danger, they said, and if so the shooting was likely legally justified.
One officer was heard "doing a mental inventory to make sure there's no holes in his body" because the officers appear to think Clark may have shot at them and missed, said Peter Moskos, a former police officer and assistant professor in the Department of Law and Police Science at John Jay College of Criminal Justice.
But Geoffrey Alpert, a professor of criminology at the University of South Carolina and an expert on police use of force, said the officers may have a tough time explaining why they jumped to the conclusion that Clark had a gun.
He also questioned why an arriving backup officer had the two original officers turn off the microphones on their body cameras, eliminating what he called "important evidence."
In an ideal world, the two officers should have immediately provided first aid instead of waiting five minutes for backup, said Eugene O'Donnell, a professor of police studies at John Jay College of Criminal Justice. "But that could be more the product of hope than reality," he said, with the officers still in shock and worried about their own safety.
The department said the two officers have been with Sacramento police for two and four years, but each has four years' previous experience with other law enforcement agencies. Both are on paid administrative leave during the investigation.
Jonathan J. Cooper and Kathleen Ronayne/ Associated Press contributed to this report.