Uncovering African American heroism
MIKE MCGEE | 4/3/2018, 11:16 a.m.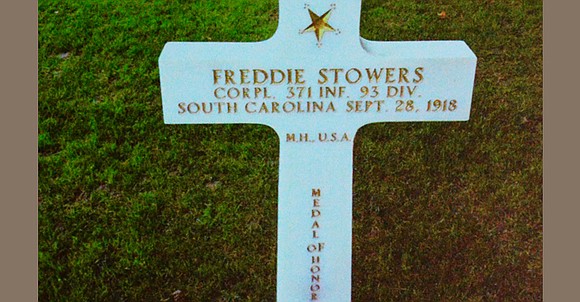 The Dallas Examiner
Dr. Jeff Gusky, Dallas emergency room doctor, National Geographic photographer and explorer, has traveled the world knitting together scraps of America's missing history. During the program African American Heroism And America's Racial Past held at The Dallas Institute of Humanities and Culture last month, the medical professional discussed what some have described as his most dramatic finding yet in his quest to further flesh out the contributions of Black Americans – a forgotten French WWI monument dedicated by members of an African American unit for their fellow soldiers killed in battle, including two Medal of Honor nominees.
"Sometimes ER docs have to rip off the Band-Aid and tell people things that are hard to hear. So tonight, I respectfully ask that I speak to you as patients in the ER," Gusky said as he addressed the audience. "Some of the stories I'll be sharing, most of them, are triumphant stories and inspiring, but some are painful and will be hard to hear."
One of the most triumphant tales the doctor told was about U.S. soldiers Freddie Stowers and Burton Holmes, two men commemorated on the aging monument. Both men died fighting during WWI and were recommended to posthumously receive the Medal of Honor.
"My story began in the mud," he said of his discoveries.
In 2014, Gusky was on assignment for The New York Times, documenting the famous Sergeant York saga in French farm country.
"I was driving a four-wheel drive Volvo and got stuck in the mud," he recalled.
That misstep led to the doctor getting assistance from a local who in turn introduced him to an older landowner whose property included an abandoned abbey where American soldiers were once housed.
While touring inside, Gusky took photos of an inscription carved into the original wood that is possibly the only surviving inscription from a Black American WWI soldier, according to his consultant, Col. Rob Dalessandro, co-author of the book Willing Patriots: Men of Color in the First World War.
The doctor had also been photographing a site over a period of two years which a French friend believed to be an underground command post of a Black American unit, the Eighth Illinois.
Gusky shared one of those photos with the colonel.
"Jeff, you have just found a needle in a haystack," the doctor recalled Dalessandro exclaimed after seeing the picture of the apparent command post. "This is not just a command post of a Black unit. This is the only all-African American unit in the U.S. military."
Germans called them "The Black Devils" because of their fierceness in combat, Gusky noted.
The doctor then took his photos and assorted data to Dr. Rex Ellis, curator with the Smithsonian National Museum of African American History and Culture, and Dr. Krewasky Salter, curator of Military History for the museum.
"About halfway through the meeting, Dr. Ellis tells me, 'You've stumbled onto 'I have a dream" before I Have a Dream," he said, referring to Dr. Martin Luther King's famous Washington, D.C. speech. "The unknown birth of modern civil rights.