Uncovering African American heroism
MIKE MCGEE | 4/3/2018, 11:16 a.m.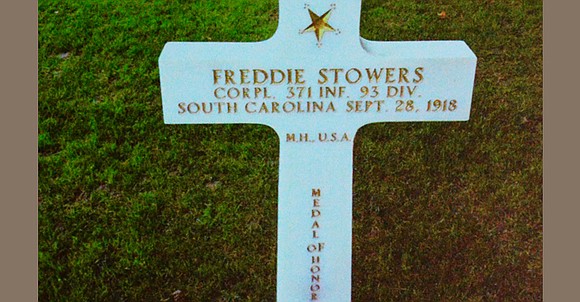 "[Ellis] told me the story was much bigger than what happened in France. It went back decades and it touches us today."
Further travel, research, and archival digging eventually brought Gusky face-to-face, in a sense, to the Medal of Honor candidates Stowers and Holmes as well as the monument in November 2017. It stands on a hill near a battleground, a site recalled by French locals, but lost to most of American memory.
The structure was paid for by each member of the Eighth Illinois. Every man donated a dollar to the monument with the names of their deceased comrades listed prominently – for a total of $3,000 – just weeks after the deadly battle.
The doctor explained that such markers were important to Black military men and women because, after the Civil War, soldiers of color who fought for the Union knew they had earned their place in what was their country. Their action helped abolish slavery, assure equal rights under law, and secure voting rights - at least all on paper, which was the sense of purpose Ellis had alluded to.
Gusky admitted that these citizens knew White America was not going to accept them as equals, despite their equal service in preserving the Union. Therefore, the military, and their superior service within it, became a point of pride for many African Americans in the decades after the Civil War. Being in the military meant having a role to play within the nation; the belief in something more significant than the individual; proving worth, and defending their own rights as they relied on collective teamwork.
That pride, sense of duty, and dedication to country drove the Eighth Illinois to serve diligently, erect their own battle memorial, and support two of their own in receiving the Medals of Honor after a fierce fight.
"German soldiers waved the white flag," the doctor announced, as he described the pivotal battle that occurred. "Our American boys got out of the trenches and moved toward the German soldiers - they could have killed them but they didn't; they went to capture them."
He explained it was actually a ruse.
Enemy machine-gun fire unexpectedly tore into the Black Devils, killing a number of them. As part of his lecture the presenter read aloud Holmes' original nomination narrative for the Medal of Honor.
"It says, 'For extraordinary heroism in an attack in the Champaign Sector, Hill 188, Sept. 28, 1918, Private Holmes, after his automatic rifle was out of commission and he himself badly wounded, returned to the company's headquarters of his own volition, got a reserve automatic rifle, went back and fired with this on the enemy until he was killed. This happened under heavy machine gun and shell fire'" Gusky read.
"Something is driving him. He believes in something bigger than himself," the presenter voiced. "But it wasn't just him."
The Eighth Illinois was made up of impoverished draftees who picked cotton before military service. After joining up, the unit in fact "… turned out to have the most amazing record of any Black unit in WWI," affirmed the speaker, in contrast with the contemporary military view of the unit.