Blacks largely left out of high-paying jobs
BOB SALSBERG and ANGELIKI KASTANIS | 4/9/2018, 11:52 a.m.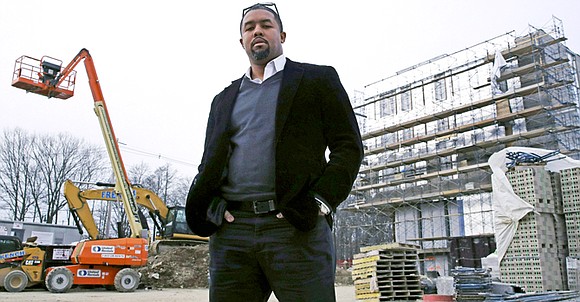 BOSTON (AP) – Jonathan Garland's fascination with architecture started early: He spent much of his childhood designing Lego houses and gazing at Boston buildings on rides with his father away from their largely minority neighborhood.
But when Garland looked around at his architectural college, he didn't see many who looked like him – there were few Black faces in classroom seats, and fewer teaching skills or giving lectures.
"If you do something simple like Google `architects' and you go to the images tab, you're primarily going to see White males," said Garland, 35, who's worked at Boston and New York architectural firms. "That's the image, that's the brand, that's the look of an architect."
And that's not uncommon in other lucrative fields, 50 years after Dr. Martin Luther King – a leader in the fight for equal-employment opportunities – was assassinated.
An Associated Press analysis of government data has found that Black workers are chronically underrepresented compared with Whites in high-salary jobs in technology, business, life sciences, and architecture and engineering, among other areas. Instead, many Black workers find jobs in low-wage, less-prestigious fields where they're overrepresented, such as food service or preparation, building maintenance and office work, the analysis found.
In one of his final speeches, King described the "Other America," where unemployment and underemployment created a "fatigue of despair" for African Americans. Despite economic progress for Blacks in areas such as incomes and graduation rates, some experts say many African Americans remain part of this "Other America" – with little hope of attaining top professional jobs, thanks to systemic yet subtle racism.
The analysis found that a White worker had a far better chance than a Black one of holding a job in the 11 categories with the highest median annual salaries, as listed by the Bureau of Labor Statistics. The ratio of White-to-Black workers is about 10-to-1 in management, 8-to-1 in computers and mathematics, 12-to-1 in law and 7-to-1 in education – compared with a ratio of 5.5 White workers for every Black worker in all jobs nationally. The top five high-paying fields have a median income range of $65,000 to $100,000, compared with $36,000 for all occupations nationwide.
In Boston – a hub for technology and innovation, and home to prestigious universities – White workers outnumber Black ones by about 27-to-1 in computer- and mathematics-related professions, compared with the overall ratio of 9.5-to-1 for workers in the city. Overall, Boston's ratio of White-to-Black workers is wider than that of the nation in six of the top 10 high-income fields.
Boston – where King had deep ties, earning his doctorate and meeting his wife – has a history of racial discord. Eight years after King's assassination, at the height of turbulent school desegregation, a Pulitzer Prize-winning photograph from an anti-busing rally at City Hall showed a White man attacking a Black bystander with an American flag.
The young victim was Theodore Landsmark. He's now 71, a lawyer, an architect and director of Northeastern University's Dukakis Center for Urban and Regional Policy.