Restaurant fed stomachs, souls during Civil Rights Movement
JENNIFER BIGGS | 4/16/2018, 3:01 p.m.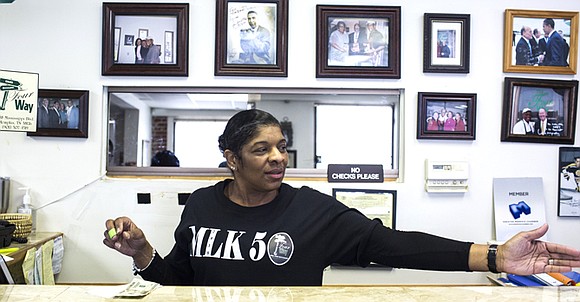 The Commercial Appeal
MEMPHIS, Tenn. (AP) – When Irene and Clint Cleaves opened The Four Way Grill in 1946, they couldn't have known that the tiny restaurant attached to a pool hall and a barbershop would become an institution in the Civil Rights Movement 20 years later.
They wouldn't have known that a teenager in Atlanta would become a man who would change a nation, that they would foster the community he led, and that they would feed him just as he fed the souls of men and women fighting for justice and equal rights.
But The Four Way's place in history is sealed to Martin Luther King Jr., the man who loved Irene Cleave's fried catfish, fried chicken and her peach cobbler. Just as other soul food restaurants across the country, particularly in the South, offered a safe place for activists to talk, so went The Four Way.
"In the Black community, the soul food restaurants and the churches were the prime places for people to meet and organize," said Adrian Miller, an author whose 2013 book Soul Food: The Surprising Story of an American Cuisine, One Plate at a Time, won the 2014 James Beard Foundation Book Award for Reference and Scholarship.
King was killed in Memphis April 4, 1968, a day after he came to town in support of the sanitation workers on strike. There's no record of him eating at The Four Way on that visit, but folks who still eat in the restaurant today will never forget those two days.
Joyce Walton Lindsey, 73, was a student at the time, working on her master's degree. On April 3, she went with friends to hear King speak at Mason Temple, but he wasn't there. Instead, she said, she recalls it was Ralph Abernathy, Jesse Jackson and James Bevel.
"In the church we began to chant 'Dr. King, Dr. King,' so they went and got him," she said.
King was resting, but he came to speak. Lindsey said when he started he appeared subdued, even nervous.
"In the midst of him speaking, it was like a spirit came up over him to let him know, 'You're gonna be all right,' and this is when he began to really speak," she said. "And he let us know that he feared no man and that he had been to the mountaintop and he had looked out over the mountaintop. He said, 'I may not get there with you."'
Last week, as she's done for most of her life, Lindsey was eating at The Four Way, coincidentally at the same time as a group of ministers who meet there weekly. Among them was Edward Parker, the minister of Berean Missionary Baptist Church. Almost 80, he remembers The Four Way not just as a place for meeting during the civil rights movement, but also as a part of his history.
The room in back, where you had to ring a bell to be admitted, was where it all took place. Today you can see the door, but it opens into an expanded kitchen instead of a dining room with white tablecloths.