Restaurant fed stomachs, souls during Civil Rights Movement
JENNIFER BIGGS | 4/16/2018, 3:01 p.m.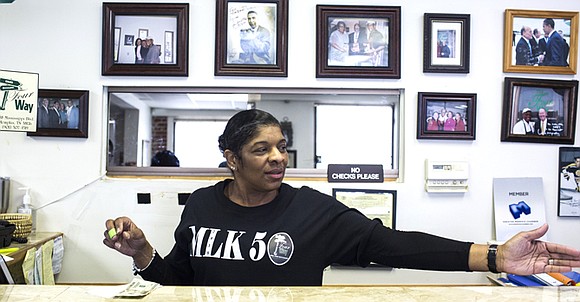 "The Four Way was also a place for socializing," he said. "This was a plush restaurant. It was exquisite. It had the best of everything. It was where you would bring your best girl."
But it was more than that, too.
"We would come in the evening and have a beer or a Coke and sit and discuss the affairs and the situation of the day," he said.
And sometimes, plans would be laid.
"From time to time, [the Rev. Samuel] Billy [Kyles] would come in and share. He was such a mover in the civil rights movement."
The late Kyles was King's friend, the man who arrived at the Lorraine Motel April 4 to take him to dinner at his home. Exactly 10 minutes after he arrived, according to a timeline in a 2013 article by The Commercial Appeal reporter Marc Perrusquia, King was shot on the balcony of the motel.
Clint Cleaves died in 1970. His wife lived until 1998, but her restaurant floundered as her health declined. It closed in 1996 for nonpayment of taxes, prompting then-Memphis Mayor W.W. Herenton to attempt an intervention to save it with a $20,000 loan. It didn't happen, but the restaurant reopened, only to close again. In 2001, Willie Bates and a partner bought it on the courthouse steps. Bates died in 2016; the restaurant is now owned and run by his daughter, Patrice Bates Thompson.
Bates, who worked for Universal Life Insurance Co., grew up four blocks from The Four Way. The red wagon he used to carry copies of The Commercial Appeal when he started his paper route at age 9 sits outside the restaurant.
"After he retired he started to pursue a side business in real estate," Thompson said. "So he bought the real estate without saying that he was going to open the restaurant, but I think he always knew he was."
He saw LeMoyne Gardens, the apartments where he grew up, razed to make way for a new development.
"I think that sealed it for him," Thompson said. "He wanted to preserve his neighborhood."
People told him to move the restaurant, but Bates told this reporter in 2015 that he laughed at anyone who told him to do that that there was no point in having The Four Way if it wasn't in the original location. He knew he could get someone to cook the food anywhere, but the ground was where the magic was.
King is the dignitary most associated with the restaurant, but in 2011, when The Four Way was recognized on its 65th anniversary, Bates said: "Elvis Presley ate here, too. And B.B. King and even Don King. We like to say we've had all the kings."
Albert King, too, Thompson points out and Martin Luther King III, listing a roster of other celebrities, activists and politicians who have been in over the years. The proximity to Stax made it a natural for some of them; others sought it specifically for the food or to sit in the storied walls.