Sankofa Garden Homes: Planting by Good Friday's moon
CLARENCE GLOVER | 4/16/2018, 2:53 p.m.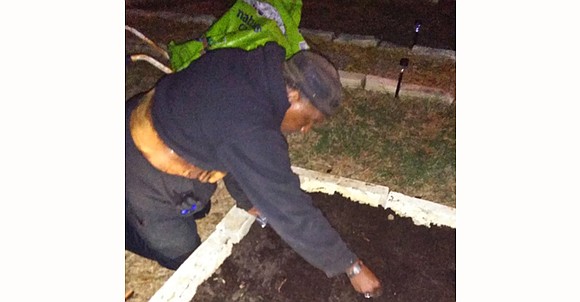 Kevin had been having health problems and I had encouraged him to begin growing some of his own organic food to help aid in his healing. While aiding in physical healing, his garden would also be mentally stimulating as well.
DABAs who have read this column have shared with me that they will be starting their gardens. How exciting, as we reclaim the gardening knowledge and skills of our ABA ancestors and Elders. We will be able to transform food deserts into food oases one African American home at a time.
As we approach the celebration of Earth Day, April 22, I encourage you to plant something with your family. It can be an above ground garden or pot plants of herbs. If you don't have enough space or sunshine in your yard, then purchase a plant light from a local lawn and garden store and grow plants inside your home. A gooseneck light or dome light during the day works the best.
As we start a new spring, I look forward to hearing from you and knowing more about your Sankofa Garden Home. We will hold our first Sankofa Garden Home Fall Harvest Festival this fall. I look forward to us sharing our stories and our harvest.
As you work in your garden, don't forget to include your children and your neighbor's children. As I stated earlier, you will help build up their immune systems while passing on the knowledge of Sankofa gardening. They will also be developing their science, technology, engineering and math skills.
The greatest reward will be when you prepare and eat your organic food together as a family. You will get a great sense of togetherness and accomplishment; cooking, canning and freezing your fresh organic vegetables. Your Sankofa garden will connect you back to nature and the earth.

As I reflect on planting by the light of the moon, I am still moved by the energy I experienced. I hear many African Americans talking about what we lost as a result of being enslaved in America. I take a different perspective on this.
In spite of what was done to us, we have overcome. We must now reclaim the knowledge of our past while producing new knowledge. We must understand that no one can destroy culture. Like energy, you can only transfer it or transform it. We were transferred from Africa to America through slavery, not destroyed. We have transformed our culture and have become a uniquely different people. From our African roots, we have produced new fruits of spirituals, blues, jazz, soul, bebop, doo-wop and hip-hop music. We created cuisines of gumbo, collard greens, fried chicken, watermelon, black-eyed peas, hot water cornbread, and bread pudding. Now we must celebrate our new African American identity and claim and celebrate who we are!

Until Next Month, may your Sankofa Garden Home grow!
Clarence Glover, known as Professor Freedom, is a historian and president of Sankofa Education Services. He provides this column on Sankofa Garden Homes with the purpose of: "Taking the chains off our brains, so our minds can work." He can be reached at clarencegloverjr@aol.com.