Texas toll roads face tax, increased traffic challenges
DUG BEGLEY | 4/23/2018, 6:07 p.m.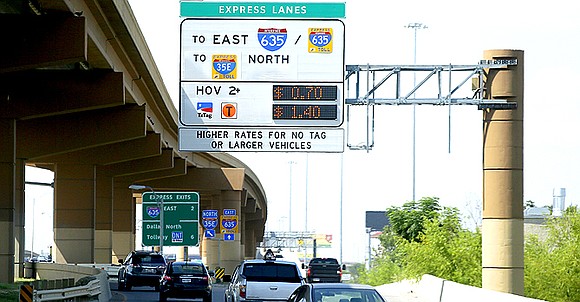 HOUSTON (AP) – The political tide has turned against toll roads in Texas, imperiling a Tomball interchange project and hamstringing frustrated local officials, while setting an ominous tone for projects to come.
For years, state officials relied on tolls to tackle some of Texas' biggest traffic messes as a way to build without adding taxes. Since 2016, however, Gov. Greg Abbott and Lt. Gov. Dan Patrick have taken hard-line stances against the mixing of Texas Department of Transportation money and toll revenues.
That's caught up with the plan for direct ramps from Texas 249 to the Grand Parkway, and it has drawn ire from Houston-area officials who think Austin politicians are taking their toll takedown too far.
"We are bending to blackmail," Fort Bend County Commissioner James Patterson charged last month.
The continued sidelining of toll projects could drastically alter how many local projects are built, and how quickly relief from heavy congestion comes for drivers. With tolls, supporters say, many projects can be built years in advance. Without them, even with new state funding, work could wait years.
Much of the current divide stems from 2014 and 2015, when voters approved Propositions 7 and 1, respectively. The referendums combined add up to $4 billion annually to highway spending by the TxDOT.
Lawmakers also ended diversions of about $600 million annually in state fuel tax funds to other uses, such as law enforcement.
The money, funneled through the state's transportation plans, can be used only to relieve congestion, perform maintenance or in specific cases lower the state's debt related to highways. None of the money, about half the $70 billion Texas plans for roads over the next decade, can be used for transit or toll projects.
Abbott and others touted the increased spending as relief from pay lanes. They're now taking a strict view of the no-toll pledge, spiking projects that use tolls, including managed lanes in Austin and Dallas designed to encourage carpool use but available to solo drivers for a price.
"Texas is spending record amounts on transportation," Patrick wrote to Texas Transportation Commission chairman Bruce Bugg in November. "TxDOT's proposal to add managed toll lanes is simply not consistent with the policies set forth by the legislature."
Use of tolls is nothing new for Texas' major urban areas, but their proliferation irritated some who felt TxDOT's plans simply made taxpayers give up their money in a different way.
That's led to widespread aversion to toll projects, said state Sen. Paul Bettencourt, R-Houston.
"There is a reason for it and we have to recognize the obvious," Bettencourt said. "People feel they are paying for something, then asked to pay again."
So far, the hard line on tolls has affected only the Tomball-area project, which is not set for construction until fiscal 2019. Its inclusion in a list of local projects, however, held up local approvals for months.
The Houston-Galveston Area Council's Transportation Policy Council, the regional group responsible for local transportation planning, relented only last month and removed the project from its list.