Texas toll roads face tax, increased traffic challenges
DUG BEGLEY | 4/23/2018, 6:07 p.m.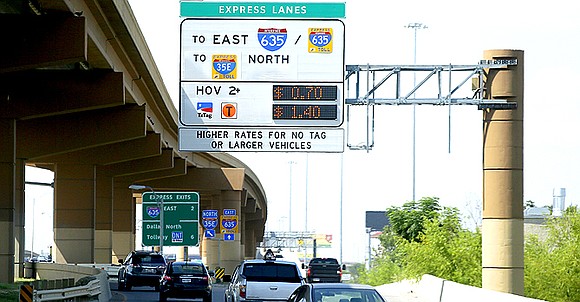 "We have essentially put it to the side for a moment," said Alan Clark, manager of transportation and air quality programs for the regional council.
Clark said not doing so would have put other projects, some of which are expected to start before the Grand Parkway and Texas 249 work, at risk.
As officials approved shelving the interchange ramps, Patterson lashed out at Patrick and others, arguing they were taking too strict an approach and interfering in projects that don't directly involve state funds. The Texas 249 work is being paid for by the Harris County Toll Road Authority and TxDOT, though the state's share isn't from state funds. It comes from the Grand Parkway Transportation Corp., the entity building Houston's outer ring road.
"We are calling it a TxDOT project when I do not believe it is a TxDOT project," Patterson said.
TxDOT officials in Houston, meanwhile, have carefully avoided some of the discussion in recent months, notably regarding the planned overhaul and redesign of Interstate 45 through downtown. The $7 billion freeway redo from Interstate 69 to the Sam Houston Tollway along I-45 includes so-called MaX Lanes that officials said allow for greater use of carpools and transit.
Plans for the freeway project initially labeled them as managed lanes, and left open the potential for a tolling component for solo drivers. Since mid-2017, officials have said no decision on tolling, or not tolling, has been made, citing the possibility of additional state funding from Propositions 1 or 7.
In Dallas and Austin, officials continue fighting for their projects, removed at Patrick's urging from state plans. Leaders in Lake Highlands, a neighborhood in northeast Dallas, joined city officials in a plea to transportation commissioners to revive plans for managed lanes along Interstate 635.
The lanes would operate similarly to the Katy Managed Lanes along Interstate 10, which offer free use for carpools and charge solo drivers for a quicker trip.
"There is a big difference between a toll road and an optional managed lane for congestion relief," Dallas resident Susan Morgan told commissioners last month.
For Lake Highlands residents, the decision to hold up the project over tolls leaves them with nothing in terms of traffic relief.
It's a consideration that worries even some of the critics of toll roads, including state Sen. Bob Hall, R-Edgewood, who represents a sliver of Lake Highlands.
"We have delayed this project long enough," Hall said.
A long list of projects are waiting for state money, and despite billions in additional investment over the next decade, it still isn't enough to address the most persistent problem spots.
Bugg, as a discussion exercise, asked TxDOT officials to analyze what could be accomplished by directing all the new congestion relief money – $35.4 billion of the state's $70.6 billion spending plan – to the 100 most congested road segments in the state.
The reality is the worst spots in the state would gobble up all Texas' transportation funding, according to the TxDOT analysis.
The top 100 list compiled annually by Texas A&M Transportation Institute is based on total delay times along the roadways. On the current list, 92 of the most congested segments are in five metro areas – Dallas, Houston, Austin, San Antonio and Fort Worth – with 38 of those in the Houston area.
The five areas have all of the top 50 most congested roads, topped by some familiar stretches, such as Loop 610 in Uptown, Interstate 35 in downtown Austin and Interstate 69 from the Loop 610 to downtown Houston.
TxDOT estimated costs using current and future plans and programs. Tackling the top 25 most congested roads in the state – which includes 12 in the Houston area – would cost $27.7 billion, while the next 25 segments would cost $10.7 billion.
With many needs and still not enough revenues to promise everything to everyone, Bugg said transportation officials still face challenges, even with more to spend.
"We are indifferent to the funding streams," he said. "But not indifferent to our commitment to building roads."