School Choice: Dallas ISD's Transformation and Innovation Schools
MIKE MCGEE | 4/29/2018, 11:53 p.m.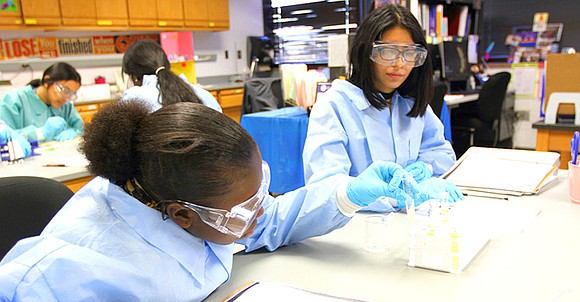 He acknowledged philanthropic assistance might also be an option for transformation schools in the future.
With the unique and focused fields of education that school choice provides, the Dallas ISD may draw more students back into the district. The more students that attend schools in the district, the more funding the district would receive to improve its schools.
The trustee used his daughter as an example; he noted she and her mother lived in Mesquite where she went to school. When the opportunity arose for her to enter the all-girls Solar STEM School, it brought his daughter and her mother back into Dallas.
The superintendent confirmed that there are plans to create more transformation schools for the district even though these specialized schools also need specialized teachers, more funding and more attention from the public.
"The bottom line is yes; there is a demand, there is a need. But the dilemma is, where do we get facilities … and we want to grow our enrollment," he said, reiterating the sentiment of the trustee on the subject of expanding the school rolls.
Resendez exp­lained his enthusiasm on developing more transformation schools south of downtown.
"The only transformation school we have at this point is Hulcy, and I think it's extremely important that kids that grow up in the Southern Sector – all over Dallas, not just the Southern Sector … I'm from the Southern Sector and I grew up there. I never saw any type of magnate, talented and gifted or Montessori school in Southeast Dallas County," he commented.
As popular as the schools have been, Hinojosa affirmed that he looks forward to continued improvement within the established system.
"They're all doing well," he said of these schools, "But there are some models that have been a little more successful."
Gaylord mentioned that "spreading the word" on the schools alone would be the greatest improvement for the concept, with which the trustee agreed.
"I think the more we expand those type of programs the more that our students and their families become aware of those opportunities, and they'll be more engaged with the district. And if we provide high quality education to our students, these opportunities, then I think the outcome will be much better," Resendez added.
"We can't ignore our traditional neighborhood schools. That's why it's important that we think thoroughly about what we're doing to make sure these things are working before we move too quickly with the expansions of these programs."
Resendez expressed that he and other trustees do not want to squander funds on transformation schools that do not work nor advance them at the cost of quality of the district's other schools.
"This is a baby concept. It's something new, and especially for us," Hinojosa voiced. "So we'll continue to monitor it, and monitor performance and there may be some other improvements that we identify, but we've been very impressed with the quality of success so far."
Requested interviews with District 6 Trustee Joyce Foreman, who also has transformation schools in her district, did not take place due to scheduling conflicts.