Plans to upload blueprints for 3D-printed guns on hold
MATTHEW CHOI | 8/6/2018, 2:35 p.m.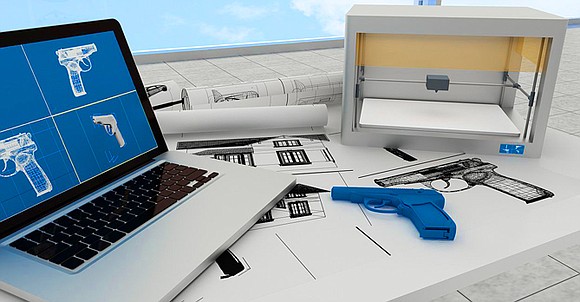 The Texas Tribune
An Austin company decided Tuesday against publicly releasing digital blueprints for making guns with 3D printers in light of legal challenges from multiple states. Not long after, a federal judge issued a temporary restraining order that would have blocked it from doing so anyway.
Defense Distributed, a project of Austin resident and self-identified anarchist Cody Wilson, has tried with frequent roadblocks to upload digital blueprints for everything from handguns to semi-automatic weapons that anyone can create with a 3D printer. The firearms have no serial numbers and are made of plastic, allowing them to evade metal detectors. New Jersey Attorney General Gurbir S. Grewal filed a lawsuit in his state Monday, and Wilson agreed to refrain from publishing the files until after a hearing in September.
"I was proud to stand up to Cody Wilson and Defense Distributed, and to make clear that their plans to share printable gun codes with everyone – including terrorists, criminals and juveniles – was a threat to all our residents," Grewal said in a statement.
The attorneys general of several states – Texas is not one – have sued the Trump administration in a Seattle federal court separately from the New Jersey suit, requesting a nationwide restraint on the publication of the files. The judge in that federal case issued the restraining order Tuesday afternoon, according to The Associated Press.
Wilson has tried posting the files before, but the State Department ordered him to stop for violating federal regulations aimed at keeping military technology out of foreign hands. Wilson and the Second Amendment Foundation sued the government in 2015, arguing that since the code used to create the blueprints is a language and language is speech, blocking Wilson from uploading the files violates his First Amendment rights.
Second Amendment Foundation founder Alan Gottlieb said during an interview that several cities and counties have used zoning laws to push out gun stores, making printed guns an alternative to maintain Second Amendment rights.
"You can't keep and bear arms if you don't have the right to buy and make them," Gottlieb said. "And since they're shutting down the right to buy guns, making them is another option."
The State Department reached a settlement with Wilson's organization earlier this summer, essentially giving Wilson the green light to start what he describes on his website as "the age of the downloadable gun."
Gun-regulation advocacy organizations, including the Brady Campaign to Prevent Gun Violence, Everytown for Gun Safety and the Giffords Law Center, had filed a motion in Wilson's original case against the federal government to stop Wilson from uploading the blueprints, but presiding Judge Robert Pitman denied the request Friday, prompting Wilson to upload the files for a select number of firearms. More than 1,000 people downloaded the data to create AR-15 semi-automatic rifles between Friday and Sunday, The Chicago Tribune reported.
Wilson was planning to upload even more blueprints Wednesday but backtracked after Grewal filed the suit.
The uncharted territory of do-it-yourself guns has elicited pause even among some of the most ardent supporters of gun ownership. Trump tweeted Tuesday that he had spoken with the National Rifle Association and ambiguously said he was looking into the 3D-printed plastic guns that his administration permitted in the settlement.