'Harvey's not over' – School's about to start – but the trauma from Hurricane Harvey lingers
Aliyya Swaby | 8/16/2018, 12:51 p.m.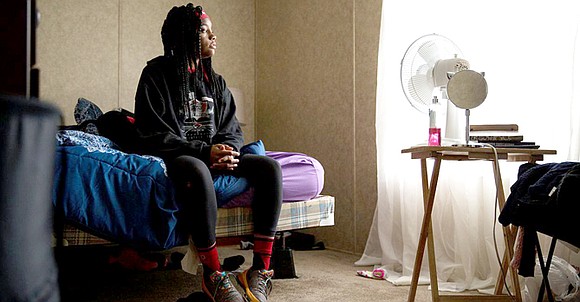 The Texas Tribune
PORT ARTHUR – The mid-June clouds stark white and heavy with impending rain, Darby Dugay listened for the splatter of falling drops, noting that the foul weather might delay her basketball practice.
Nearly a year after Hurricane Harvey submerged coastal Port Arthur, the rain still brings the 17-year-old's heart rate up, especially when water overflows the long-neglected drainage ditches lining the neighborhood's sidewalks.
"When I step into the streets and it's at my ankles, then I'm like, 'What's about to happen?'" she said, sitting in the living room of a two-bedroom Federal Emergency Management Agency trailer next to her family's gutted home, which flooded during Harvey. "It makes me get into, 'Do I need to pack? And then what do I salvage?' mode."
And her fear is justified: That summer storm filled the family's garage with water, ruining a couple of boxes of clothing, and leaked through the roof, significantly delaying the contractors who had finally started repairing the house. Dugay and her mother Angela, who is 53, each have a room in the trailer, and her 80-year-old grandfather, Herman, sleeps sitting up in the living room recliner, where he finds it easier to breathe.
As students across southeast Texas prepare to head back to the stability of a regimented school day, many in the area are still living in small trailers, stuffed into rooms with aunts, uncles and grandparents while their parents argue with insurance providers and desperately hunt for contractors who won't rip them off.
Mental health providers say the stress and instability is exacerbating existing anxieties and traumas. And they don't expect the problem to let up any time soon, even as the hurricane fades from public consciousness.
More than 75 percent of Port Arthur ISD's students were displaced from their homes by Harvey's flooding and had to move into hotels or trailers or with relatives. About 500 students had to leave the district to find shelter; they have slowly returned after the completion of apartment remodels or when their families find other homes.
"A lot of these kids and adults are still living the trauma because they're still living in shelters, they're still living displaced, they're still living in multifamily residences, they're still living in storage containers," said Tommy Smith, a mental health liaison for Spindletop Center, a community mental health clinic in neighboring Beaumont. "Harvey's not over for a lot of the communities around here."
'Where else are they going to go?'
Two months after Hurricane Harvey hit, Gov. Greg Abbott tasked three state agencies with creating a comprehensive list of mental health resources and helping link schools in need of help with the right organizations and agencies. And when a student killed 10 classmates and teachers in a rural Houston-area school this spring, state lawmakers held a series of public hearings about how to screen students for mental health issues early and head off potential violent outbursts.
But neither effort has resulted in consistent financial support that would allow schools to double the number of counselors to meet the ratio recommended by the American School Counselor Association. And many state and local efforts to train mental health professionals and teachers across the state to help students talk through their post-Harvey trauma are grant-funded, with specific parameters and set end dates – limiting the scope of their efforts.