Door to the future: How Rep. Johnson could make history if Democrats win back the House
CLAIRE PARKER | 8/17/2018, 1:40 p.m.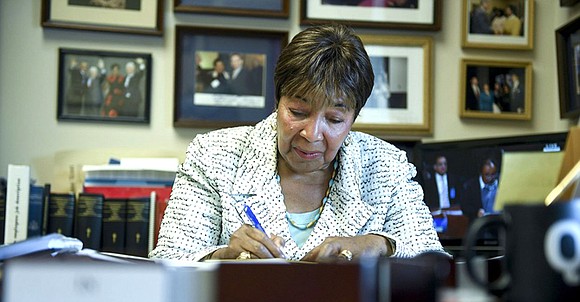 "Much of climate science today appears to be based more on exaggerations, personal agendas and questionable predictions than on the scientific method," the San Antonio Republican said during a committee hearing in 2017.
Smith has proposed measures – which the Trump administration is now seeking to implement – that would impose requirements on scientific studies that scientists and university leaders have warned would bar lawmakers from considering many studies when crafting policy. And he launched a high-profile investigation into a National Oceanic and Atmospheric Administration climate study in an effort to discredit the scientific consensus on global warming.
As Smith and Johnson have sparred over climate change and its connection to the burning of fossil fuels, Texas' oil drilling boom has continued unabated. If the state were a country, it would be on track to become the world's third-largest oil producer next year, according to a recent report.
Johnson has no patience for people who, like Smith, deny the role humans play in climate change.
"I can understand somebody being on a different wavelength. What I don't understand is when you're looking at it everyday and deny it," she said.
Smith did not respond to a request for comment.
Despite occupying the position of dissenter in a GOP stronghold, Johnson said she is trying to do what she can on politically charged issues like the environment.
"You can't get the whole hog sometimes. You take the parts you get and keep working on it," she said.
That philosophy is one Johnson has followed her whole life – a progressive pragmatism born of her experience starting a career and breaking barriers in segregated North Texas.
Johnson, who grew up in Waco, attended Saint Mary's College in Indiana because Texas' schools were segregated at the time. She moved to Dallas to begin a career in nursing in 1955 – a year she remembers for Emmett Till's lynching. When she arrived in the city, the poll tax was still in place and Black women couldn't even try on clothes in department stores. This was the "very Southern, Black and White town" Johnson adopted – and she quickly immersed herself in civic life. She joined the local YWCA chapter and took part in activism against segregation.
A nurse by training, Johnson served as the Dallas Veterans Affairs hospital's first African-American chief psychiatric nurse for 16 years. She decided to run for the Texas House of Representatives in 1972 – seven years after the Voting Rights Act passed – and became the first Black woman elected to any public office from Dallas.
Johnson left state government for a brief period to work in President Jimmy Carter's administration as the regional director for the U.S. Department of Health, Education and Welfare. She re-entered state government when she was elected to the Texas Senate in 1986.
U.S. Rep. Gene Green's ascent from the Texas Legislature to Congress closely tracked Johnson's.
"We kind of grew up together" in the Legislature, the Houston Democrat said in an interview last month, affectionately referring to his colleague as "Eddie B." He said the two "went through the valley of death" working under then-Lt. Gov. Bob Bullock, who Green described as "one of the meanest elected officials" but one who deeply cared about the state's well-being.