Trump wants to use fear, divisiveness to win elections
JESSE L. JACKSON SR. | 8/20/2018, 8:13 p.m.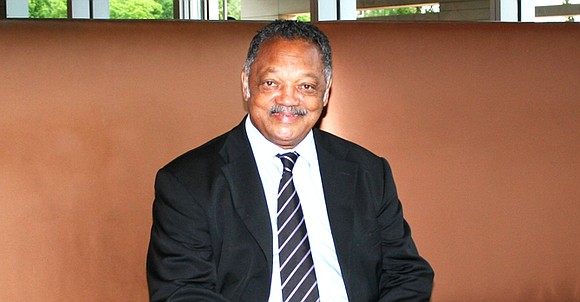 Rainbow PUSH Coalition
The run-up to the 2018 congressional elections has begun. With 40 Republican representatives deciding not to run again, the party's majority in the House is at risk. President Donald Trump has announced he plans to stump for Republicans across the country, seeking to make the election a referendum on him. Characteristically, a centerpiece of his approach is to use race as a weapon to divide and distract us.
Once more, he's gone after NFL players – largely African Americans – for their dignified, nonviolent protests against Black lives lost to police violence. The president has portrayed them as unpatriotic and ungrateful. He'll escalate those insults this fall.
Once more, he's slurred immigrants as violent, using the MS-13 gang to rouse fears. He says he will close down the government this fall if he doesn't get full funding for his wall, raising the heat on an issue used to divide us.
Days after LeBron James opened his I Promise school in Akron, Ohio, where his foundation is providing everything from school lunches to guaranteed tuitions for those who go to college, Trump questioned James' intelligence and that of his CNN interviewer, Don Lemon – also an African American, "LeBron James was just interviewed by the dumbest man on television, Don Lemon. He made LeBron look smart, which isn't easy to do." Trump's also libeled Rep. Maxine Waters as a "very low IQ individual."
This isn't accidental or coincidental; it is intentional and instrumental. Trump has a long, ugly history of preying on racial fears for his own political benefit. He rose to national attention by trafficking the lie about Obama's birth, arguing that he was an illegitimate president, born in Kenya. He launched his presidential campaign with a blast at Mexican immigrants as murderers and "rapists." He reveled in assailing the gold star Muslim parents of a U.S. Army officer who died serving his country in the Iraq War.
During the Republican presidential primary campaign, Trump for a time declined to disavow the support of David Duke and the Ku Klux Klan, saying that he hadn't done "research" on the group. He later disavowed Duke and the Klan as a result of public outcry.
As president, Trump scorned immigrants from what he called "s–hole countries" – Haiti, El Salvador and countries in Africa – while saying the U.S. needed more immigrants from countries like Norway.
Trump claims he is the "least racist person that you have ever met." His record suggests otherwise. The Justice Department sued the Trump organization – including Trump's father, Fred, the company chair and founder, and Trump himself, who was then serving as president – for systematic discrimination in refusing to rent to African-Americans. After a protracted legal battle, the Trumps agreed to a consent decree that required them to take concrete steps to end discrimination, including providing the New York Urban League with weekly listings of vacancies, allowing them to supply qualified applicants.
Later Trump gained notoriety for taking out full-page ads championing the death penalty for the Central Park Five, five young African Americans accused of raping and murdering a jogger in Manhattan's Central Park. They were convicted in a wave of hysteria only to be released after years in prison when DNA evidence proved they were innocent of the crime. There is no indication that Trump ever apologized.