Queen of Soul: Remembering the life and legacy of Aretha Franklin
Denisha McKnight | 8/23/2018, 4:06 p.m.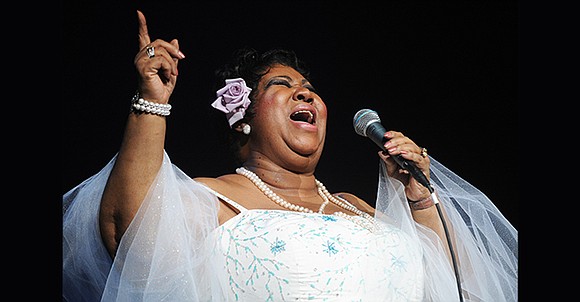 The Dallas Examiner
From the booming riffs of her gospel-inspired singing to her heart bursting lyrics, Aretha Louise Franklin has captivated the nation with her music that even former president Barack Obama claimed had "defined the American experience."
Franklin, who died Aug. 16 at age 76, due to a longstanding battle with pancreatic cancer, persevered through several decades as the reigning "Queen of Soul" and her life is heavily honored by fans of her prestigious legacy following her death.
"You can hear Aretha Franklin in any female who makes the hairs stand up on your neck when they sing, said Grammy-winning rock singer Melissa Etheridge in a Biography.com interview. "You know they were inspired by Aretha Franklin."
The illustrious singer was born on March 25, 1942, in the heart of blues and rock 'n' roll oasis Memphis, Tennessee. The daughter of local singer Barbara Siggers-Franklin and Clarence LaVaughn "C.L." Franklin, a renowned Baptist minister known as "The Man with the Million Dollar Voice," she was the fourth of five children.
When Aretha was 6 years old, her mother left the family home with her brother and moved to Buffalo, New York, but still remained in contact with Aretha throughout the summer. In her autobiography, Aretha: From These Roots, she explained that during that time her mother was still very loving and responsible, and that she often came to visit them throughout the year and they would visit her during the summer, until she died in 1952, when Aretha was 10 years old.
Her father later moved the family to Detroit, Michigan. In Motown, her father's popularity as a reverend grew as he developed relationships with many well-known Black innovators, such as gospel legend Mahalia Jackson, Sam Cooke and Martin Luther King Jr., who often visited their home. Her father also marched with King during the Civil Rights Movement.
Surrounded by greatness, young Aretha sang for her father's congregation and taught herself how to play the piano by ear in the mid-1950s. Her father began bringing the child singer on tour when she was 12. She would perform at various churches.
In 1955, she gave birth to her first child, who she named Clarence Franklin after her father.
In 1956, she released her first gospel album, Songs of Faith, which was recorded live at her father's church, New Bethel Baptist Church. The album included gospel favorites, Precious Lord, Never Grow Old and There Is a Fountain Filled with Blood.
In 1957, she gave birth to her second child, Edward Franklin.
At age 16, the young mother of two boys began traveling with King during his civil rights tours across the nation. She continued to be a part of the movement for many years.
"Aretha was the spirit of the Civil Rights Movement. She and her father were very significant when it comes to the influential people who supported our co-founder and first president, Dr. Martin Luther King Jr.," stated Dr. Charles Steele Jr., president and CEO of the Southern Christian Leadership Conference. "And just like Gospel Great Mahalia Jackson, Aretha was there providing support with her voice. Given that voluminous voice she possessed, she motivated folks, not only through Rhythm and Blues, but also gospel. The first time Dr. King gave the I Have a Dream speech was in Detroit in June of 1963 – and the March on Washington was the following August. The largest march prior to the historic March on Washington was in Detroit, and she and her father were involved in that march and movement. That Detroit rally provided the motivation, excitement and energy we needed to mobilize people to Washington where Dr. King gave the famous I Have A Dream speech, which became renown and documented as one of the greatest speeches in history."