Trump unveils major rollback of Obama's clean power plan
KIAH COLLIER | 8/23/2018, 3:43 p.m.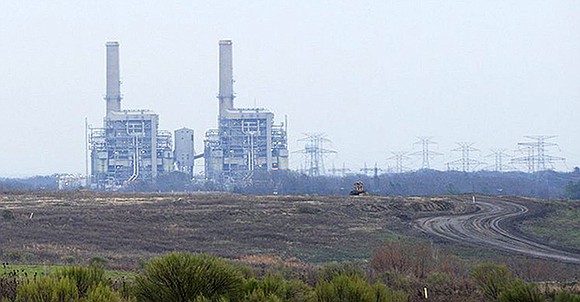 The Texas Tribune
The Trump administration on Tuesday unveiled a plan that will drastically curtail an Obama-era regulation that would've required states to slash planet-warming carbon emissions by shifting from coal power to natural gas and renewables.
The proposal, which the coal-friendly administration is calling the Affordable Clean Energy or ACE rule, will give states broad authority in determining how to regulate pollution from coal-fired power plants. But the requirements are so weak that many environmental groups say it may not require states to do much, if anything.
Texas' Republican leadership cheered the new proposal on Tuesday, which will go through a public comment period and is sure to face legal challenges.
"I'm glad to see President Trump remains committed to eliminating job-killing Obama regulations that for years were a wet blanket on the Texas economy," Republican U.S. Sen. John Cornyn of Texas said in a statement. "By rolling back this rule, Texas and other states will now have the freedom to determine a clean energy plan that works best for them. Pro-growth policies under this Administration continue to boost the Texas economy and benefit Americans across the country."
Under the plan, states would have three years to devise plans to reduce greenhouse gas emissions from coal-fired power plants. Those reductions would be achieved mainly through the "efficiency improvements" at power plants. According to the U.S. Environmental Protection Agency, the rule gives states "adequate time and flexibility to develop their state plans."
"The ACE Rule would restore the rule of law and empower states to reduce greenhouse gas emissions and provide modern, reliable, and affordable energy for all Americans," said EPA Acting Administrator Andrew Wheeler. "Today's proposal provides the states and regulated community the certainty they need to continue environmental progress while fulfilling President Trump's goal of energy dominance."
Texas and West Virginia led a coalition of about two dozen states that sued over the Obama administration's so-called Clean Power Plan, which the ACE rule replaces.
The plan, which never went into effect amid legal challenges, would have required every state to slash carbon dioxide emissions from power plants by 2030 however they saw fit, accelerating a shift from coal that started years ago. Carbon dioxide is a potent greenhouse gas that directly contributes to climate change.
For Texas – the nation's top emitter of carbon dioxide by far – that would have meant cutting an annual average of 51 million tons of emissions, or about 21 percent of emissions based on 2012 levels.
The state's main grid operator argued that the regulation would've increased Texans' energy bills by as much as 16 percent by 2030 while increasing the threat of outages, particularly in areas near retiring coal plants – a projection the Texas GOP repeatedly hammered.
But experts and environmental groups said Texas – the nation's top producer of wind energy – was already well on its way to meeting the requirements of the Clean Power Plan.
"Texas is already on track to achieve about 65 to 70 percent of the reductions that will be required under the Clean Power Plan," John Hall, Texas director for the Environmental Defense Fund's clean energy program, told the Tribune in 2015, the year the Obama administration announced a final version of the regulation.