Trump unveils major rollback of Obama's clean power plan
KIAH COLLIER | 8/23/2018, 3:43 p.m.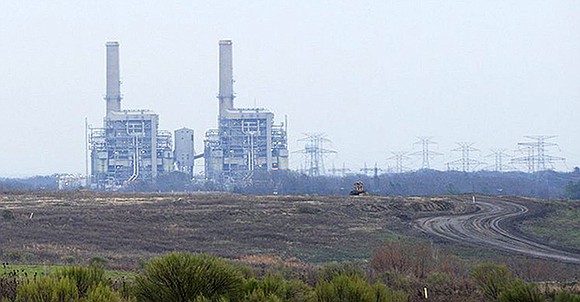 "There never have been limits on how much carbon power plants can emit into the air," Obama said at the time. "For the sake of the planet, that has to change."
Michael Webber, deputy director of the Energy Institute at the University of Texas at Austin, has said that Texas – also the nation's top producer of natural gas – actually stood to benefit economically from the plan because demand for that cheaper and cleaner-burning fossil fuel would have risen.
Some experts have downplayed the impact of any kind of power plant regulation at the federal level, pointing out that utilities have been moving to slash carbon emissions for several years because natural gas and renewables are significantly cheaper than coal and because some customers and shareholders have grown to prefer green energy sources.
Large municipal utilities in the Austin, San Antonio and El Paso areas have already taken major steps toward reducing greenhouse gas emissions. Conservative Georgetown, 30 miles north of Austin, has made headlines for becoming one of the first cities in the United States to run on 100 percent renewable power.
Late last year, Irving-based Vistra Energy and its subsidiary, Luminant, announced plans to shutter three major Texas coal plants: Monticello, Big Brown and Sandow.
Steve Weiler, a longtime Washington, D.C.-based industry lawyer, said in a statement Tuesday that "In response to the economic factors, like the availability of abundant and inexpensive supplies of natural gas and increasing amounts of renewable energy, the market moved away from coal plants. The Clean Power Plan merely accelerated the market trends."
"This apparent victory for the coal industry is likely to be short-lived," Weiler added. "In the end, market forces, not regulation, will prevail, no matter how hard the administration tries."
Rice University Environmental Engineering Professor Dan Cohan said, "Honestly, I don't see this affecting Texas much."
"The coal plants that have been closing have been for financial reasons. This won't bring them back, nor improve the economics of the ones that remain," he said. "CPP wasn't in effect anyway, and this new rule is intentionally weak."
Still, environmental groups said the Clean Power Plan was an important incentive to speed up the shift to green energy and also protect public health. A technical analysis of the plan by the EPA released Tuesday acknowledged that the plan would increase carbon emissions and lead to up to 1,400 premature deaths annually, according to The New York Times.
"As America suffers through a summer of record-breaking wildfires and heat waves, Acting Administrator Wheeler responds with this do-nothing plan leaving American families unprotected from dangerous climate pollution," Environmental Defense Fund President Fred Krupp said in a statement. "This proposal would eliminate almost all the life-saving climate and health benefits that the Clean Power Plan provides. The Trump-Wheeler plan will mean millions of tons more air pollution endangering our kids' health, lives and future."
Disclosure: The Environmental Defense Fund, the University of Texas at Austin and Rice University have been financial supporters of The Texas Tribune, a nonprofit, nonpartisan news organization that is funded in part by donations from members, foundations and corporate sponsors. Financial supporters play no role in the Tribune's journalism. Find a complete list of them here.
This article was first published at https://www.texastribune.org/2018/08/21/trump-unveils-major-rollback-obamas-clean-power-plan/ by The Texas Tribune, a nonprofit, nonpartisan media organization that informs Texans – and engages with them – about public policy, politics, government and statewide issues.