Amazing Grace: Documentary of Aretha Franklin's live recording of the best-selling gospel album of all time
DWIGHT BROWN | 12/1/2018, 1:03 p.m.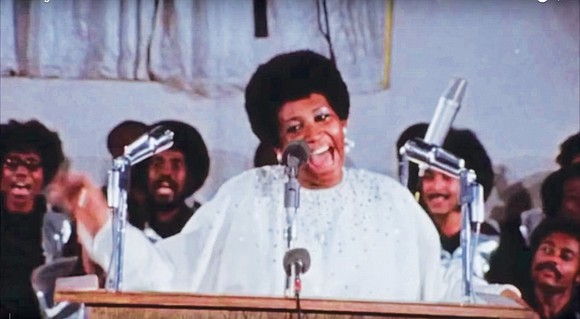 – FILM REVIEW –
(NNPA) – Back in the day, if you couldn't get to church on Sunday to hear the pastor's sermon, you'd put on Aretha Franklin's Amazing Grace album – the best-selling gospel record of all time – and she would give you your spiritual fix.
After a long delay and its share of controversy, the uplifting documentary, Amazing Grace, which preserved her live recording of that album, is finding distribution. It's as if Franklin is sending a message to us from the great beyond. Thank heaven.
With the best of intentions, director Sydney Pollack and his crew filmed the Queen of Soul as she performed over two days, Jan. 2 and Jan. 3, 1972, at the New Temple Missionary Baptist Church in Watts, Los Angeles.
The smooth transition from her live recording to the now historic double album culminated with a Grammy Award for Best Soul Gospel Performance. The making of the documentary traveled a much rougher road.
Apparently, Pollack and his crew had problems syncing the sound. It was a challenge that didn't get resolved until producer Alan Elliot bought the rights from Pollack in 2007.
Elliott then had two problems to solve. One: fix the technical hitches and make a cohesive documentary. Two: overcome Franklin's resistance. She successfully sued to stop the distribution of the film in 2011 and 2015.
After she died, her estate gave permission for the film to be released, and it recently premiered at the DOC NYC Film Festival in New York, Nov. 12. So, was it worth the wait?
The master of ceremonies at the recording session is the legendary Rev. James Cleveland, whose rich baritone is somewhere between the soulful tones of Barry White and Teddy Pendergrass. Cleveland introduces the lady of soul with such reverence that you'd think a queen was walking into his church. And she is.
With great pride the reverend says, "She can sing anything. Three Blind Mice. Anything."
Behind his pulpit is The Southern California Community Choir, directed by Alexander Hamilton. The singers have more enthusiasm than fans at a Beyoncé concert.
On the side of the pulpit, Franklin's band warms up. Guitar: Cornell Dupree. Organ: Kenny Luper. Percussion: Pancho Morales. Drums: Bernard Purdie. Bass: Chuck Rainey.
The audience is a mix of parishioners, music fans and some well-known guests: Clara Ward; Aretha's father, Rev. C.L. Franklin; along with Mick Jagger and Charlie Watts from the Rolling Stones.
Franklin floats into the room with an aura befitting Cleopatra. At the piano or standing in front of a mic on the podium, she launches into classic and contemporary gospel songs that show her versatility and musicianship.
Her voice is at the peak of its powers. Clear. Piercing. Emotional. Divine. She settles into a modern gospel song written and formerly sung by Marvin Gaye, Wholy Holy. Then How I Got Over rocks the church to its core.
The gospel standard Precious Memories is so solemn it could bring tears to anyone's eyes. Playfully she blends the Carol King song You've Got A Friend with the very traditional Precious Lord [Take My Hand], displaying an equal feel for pop and gospel stylings.