Around the State
Special to The Dallas Examiner | 12/1/2018, 2:07 p.m.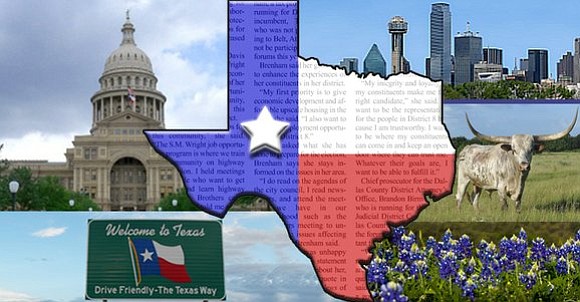 Special to The Dallas Examiner
DALLAS
Dallas Black Dance Theatre will host a unique, all-inclusive, Black on Black holiday experience Dec. 7 and Dec. 8 at the DBDT Studios, located at 2700 Ann Williams Way. The evening will include a complimentary happy hour, a holiday-themed performance and an after-party.
The happy hour will start at 6:30 p.m. Guests can mix and mingle with complimentary light bites and cocktails, then enjoy the captivating collaboration of DBDT and DBDT: Encore! dancers who have choreographed and produced new works at 7:30 p.m. An after-party follows with a live DJ, DBDT dancers, light bites and cocktails.
This year all of the works will have a holiday theme. This includes a tap duet set to Jingle Bells, company works set to O Tannenbaum and Feliz Navidad and a dramatic solo set to Silent Night.
DBDT dancer Charles Patterson choreographed Tales of Love with a Hanukkah theme. To develop the dance, Patterson talked to friends who dance with the Batsheva Dance Company in Israel.
All activities are included in the ticket price. You must be 21 or older to attend. For ticket details, visit http://www.attpac.org.
DALLAS
A year ago, plans were announced to turn the vacant Fannie C. Harris Elementary School into a youth center that will eventually accommodate homeless Dallas ISD students who have nowhere else to stay at night.
On Nov. 13, a special ceremony and ribbon cutting celebrated the prep work done so far to open the center, which is expected to happen in a matter of weeks.
Initially, the Fannie C. Harris Youth Center was scheduled to open as an after-hours drop-in center for homeless youth to have a safe place to hang out, do homework and have access to laundry and shower facilities. In the spring, with further renovations, the center is planned to open its overnight component for up to 35 unaccompanied, unsheltered students.
The center will be operated by After8toEducate, a collaborative effort formed through the Social Venture partners Dallas. The collaboration brings together Dallas ISD, Promise House and CitySquare to provide essential services for district students and other homeless youth ages 14-21. Learn more at www.after8toeducate.com.
DALLAS
Joyce Williams, the Dallas County Community College District's associate vice chancellor for workforce and economic development, has been recognized by Walker's Legacy as one of the organization's Power 15 Award recipients. Walker's Legacy is a digital platform for multicultural women in business and entrepreneurship.
A total of 15 local recipients were honored as part of a national awards program. Presented in partnership with the Minority Business Development Agency and the American Association of Retired Persons, the Power 15 Award recognizes notable community and business leaders who have built successful careers in a wide array of industries, including social entrepreneurship, business, technology, education, media, real estate and other fields.
"I am honored to have been chosen as a 2018 recipient of a Walker's Legacy Power 15 Award," said Williams. "Representing DCCCD and our workforce initiatives in the community and with our business partners is critical to our success. I'm excited to have a proactive role in that process."